News story
Norman Lamb sets out plans to develop a mutual Post Office
Mutual businesses can deliver greater staff engagement, lower staff turnover and higher customer satisfaction. Evidence shows they are less …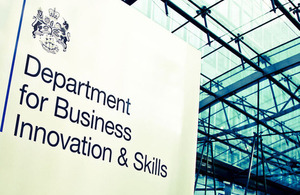 Mutual businesses can deliver greater staff engagement, lower staff turnover and higher customer satisfaction. Evidence shows they are less affected by economic downturns than other types of business. Post Office branches play a crucial role at the heart of communities up and down the country, and the Government believes that giving those who know the Post Office best greater involvement through a mutual structure could harness these benefits.
Postal Affairs Minister, Norman Lamb said:
"Post Office branches are relied upon by communities the length and breadth of the country. That is why we have committed £1.34bn of funding to the business and why there will be no closure programme under this Government. I want to make sure that the Post Office becomes a successful and secure business.
"This consultation has shown that those who know the Post Office best - its staff, subpostmasters and consumers - have a clear interest in playing a greater role in how it operates. A mutual Post Office would bring together the diverse interests of those who use, work for and run post office branches, with the shared purpose of running the business for the benefit of the public.
"I am incredibly excited by the prospect of establishing a mutual Post Office.
"Before we can successfully move to a mutual model, we must establish the right culture of mutual responsibility. Our response to the consultation sets out a number of initiatives designed to achieve this, including the Post Office's establishment of a stakeholder forum to define a shared public benefit purpose for the business.
"The Post Office must also be financially secure. I am delighted that this year, for the first time since 2004, the Post Office has reported growth in its revenues. And the number of branches across the network has remained stable.
"We must build on this progress. By establishing a culture of mutualism within the business and continuing to improve its financial performance, I believe we can move towards mutualisation by the end of this Parliament."
Chief Executive, Post Office Ltd, Paula Vennells said:
"We welcome this report and I am delighted to be leading the stakeholder forum which will define the value and public benefit of the Post Office. Alongside this, we continue to build on the good progress we have made in improving our financial sustainability and in employee and stakeholder engagement, both important for a successful transition to mutualisation."
Ed Mayo, Secretary General of Co-operatives UK, the trade organisation for co-operatives and mutuals that was first commissioned by BIS to report on mutual options for the Post Office, said:
"A mutual option for the Post Office is now the consensus way forward. It now seems entirely likely that, within a few years, the people that know and love their post office will have the opportunity to shape and support the network. The key elements that are now proposed by government are fully in line with the recommendations Co-operatives UK has made. While a strong degree of risk clearly remains on the commercial side, this is now the best hope for a sustainable post office network in the UK. We warmly welcome the open and patient way in which the government has worked with the key groups involved in and around the Post Office."
The Government's response concludes that:
The future membership of a mutual Post Office should include staff and subpostmasters. There must also be a formal role for consumer engagement.

A successful mutualisation depends on the business's financial sustainability and long term commercial viability.

Before mutualisation, a culture of mutual responsibility must be developed. The Post Office is also instilling improved ways of working at a local level to improve staff engagement and customer service.

Post Office Ltd will establish a stakeholder forum to define the public benefit purpose for the Post Office, around which any mutual would have to be built.

Clear protections would be established to ensure the primacy of the mutual's public benefit purpose, consistent with the Postal Services Act.
Mutualising Post Office Ltd - the national company which sets the strategy for the post office network and operates some of the larger branches - would not affect the ownership of the thousands of privately owned post offices up and down the country. Nor would it affect the future of Royal Mail - the mail delivery company - from which Post Office Ltd has separated.
Parliament must vote to approve any transfer of ownership of the Post Office to a mutual.
Today the Government also welcomed recommendations aimed at encouraging greater diversity of business ownership in the private sector, including a new Right to Request employee ownership. In January 2012, Graeme Nuttall was commissioned by the Deputy Prime Minister, Nick Clegg and Norman Lamb to carry out a review of the employee owned business sector and find ways to bring it from its current niche into the mainstream British economy. Mr Nuttall's final report was published today at a summit hosted by the DPM in the City of London. It sets out a range of far-reaching and challenging proposals for Government, sector representatives and professional advisers to act on to ensure that employee ownership becomes as familiar and popular a business model as management buy-outs and franchising.
**Notes to editors:
**1. The Government's response to the _Building a Mutual Post Office _consultation can be found at: http://discuss.bis.gov.uk/pomutualisation/
Evidence on the benefits of mutuals include research by the Cass Business School: [http://www.employeeownership.co.uk/publications/model-growth-do-employee-owned-businesses-deliver-sustainable-performance/](http://www.employeeownership.co.uk/publications/model-growth-do-employee-owned-businesses-deliver-sustainable-performance/); reduced staff turnover reported in M. Festing et al, 'Financial participation in Europe - determinants and outcomes', Economic and Industrial Democracy, vol. 20, no. 2 (1999)

Details for the Government's strategy for the Post Office can be found in Securing the Post Office Network in The Digital Age (November 2010):_ _http://www.bis.gov.uk/assets/biscore/business-sectors/docs/s/10-1260-securing-the-post-office-network

Royal Mail Holdings plc Annual Report 2011 is available at: http://www.royalmailgroup.com/sites/default/files/Annual_Report_2012.pdf. Post Office Ltd's total segment income in 2011/12 was £1,160m (£980m ex-subsidy) compared to £1,121 (£971m ex-subsidy) in 2010/11.

The overall number of Post Offices at the end of March 2012 was 11,818. This compares to 11,820 in March 2011. This is the smallest net fall in over a quarter of a century.

The consultation, Building a Mutual Post Office,_ built upon the independent report, _Options for a Mutual Post Office, by Co-operatives UK (May 2011): http://www.uk.coop/resources/documents/mutual-options-post-office-ltd

Graeme Nuttall's independent review of employee ownership can be found at: http://www.bis.gov.uk/policies/business-law/employee-ownership

The Government's economic policy objective is to achieve 'strong, sustainable and balanced growth that is more evenly shared across the country and between industries.' It set four ambitions in the 'Plan for Growth' (PDF 1.7MB), published at Budget 2011:
To create the most competitive tax system in the G20

To make the UK the best place in Europe to start, finance and grow a business

To encourage investment and exports as a route to a more balanced economy

To create a more educated workforce that is the most flexible in Europe.
Work is underway across Government to achieve these ambitions, including progress on more than 250 measures as part of the Growth Review. Developing an Industrial Strategy gives new impetus to this work by providing businesses, investors and the public with more clarity about the long-term direction in which the Government wants the economy to travel.
BIS's online newsroom contains the latest press notices and speeches, as well as video and images for download. It also features an up to date list of BIS press office contacts. See [http://www.bis.gov.uk/newsroom](http://www.bis.gov.uk/newsroom) for more information.
Notes to Editors
Contact Information
Name BIS Press Office Job Title
Division Department for Business, Innovation & Skills Phone
Fax
Mobile
Email bispress.releases@bis.gsi.gov.uk
Name Josh Coe Job Title
Division Department for Business, Innovation and Skills Phone 020 7215 5943 Fax
Mobile
Email Josh.Coe@bis.gsi.gov.uk
Published 4 July 2012