Norfolk supports Armed Forces Community Covenant
Norfolk's Armed Forces and community leaders came together recently to sign the Norfolk Armed Forces Community Covenant.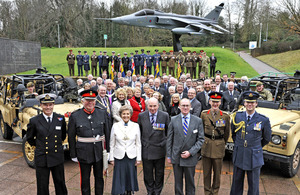 The statement, signed on 8 March at County Hall in Norwich, declares mutual support and practical help for Forces personnel and their families and is part of a national scheme launched by the MOD to improve links between the military and civilian communities.
General Lord Dannatt, former Chief of the General Staff, was joined by Group Captain David Cooper, Station Commander at RAF Marham, Brigadier Harry Nickerson, Commander of 49 (East) Brigade, and Commander Gerry Northwood, Chief of Staff, Naval Regional Command. From the county, the Lord-Lieutenant of Norfolk, Richard Jewson, and Norfolk County Council's Leader, Derrick Murphy, headed the local authority leaders taking part in the ceremony.
General Lord Dannatt said:
A covenant has always existed but now it is written into the Armed Forces Bill as an Act of Parliament.
Group Captain Cooper added:
I feel extremely proud to stand here today in this magnificent setting signing such an historic agreement that pledges both military and community support.
The Covenant takes huge strides in ensuring recognition for our Service people among the community of Norfolk as well as enhancing the understanding of some of the challenges we face within the military environment. I have been incredibly impressed with the organisation today and it has been a totally befitting occasion.
The national scheme makes £30m available to projects to 'bring down the wire' and improve links between the military and civilians. The County Council has agreed to allocate £50,000 to support a string of projects over the next 12 months.
Projects under discussion include increasing support to veterans, raising GP awareness of Combat Stress, engaging children at Marham and Robertson Barracks in reading activities, and raising public awareness of service family life and deployments overseas.
We need your help! We are trying out designs for a new single website for all of government and we'd love your feedback. Please visit the 'Government beta site' by clicking on the link under Related Links.
Published 14 March 2012