No10 statement on Osama Bin Laden's death
Al-Qaeda founder and leader Osama Bin Laden is killed by US ground forces in Pakistan.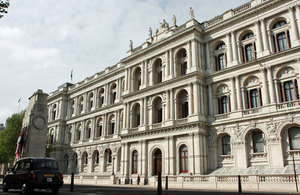 In a statement the Prime Minister David Cameron said:
"The news that Osama Bin Laden is dead will bring great relief to people across the world. Osama Bin Laden was responsible for the worst terrorist atrocities the world has seen - for 9/11 and for so many attacks, which have cost thousands of lives, many of them British.
It is a great success that he has been found and will no longer be able to pursue his campaign of global terror. This is a time to remember all those murdered by Osama Bin Laden, and all those who lost loved ones. It is also a time too to thank all those who work round the clock to keep us safe from terrorism. Their work will continue.
I congratulate President Obama and those responsible for carrying out this operation."
Speaking from Egypt, where he is currently visiting, the Foreign Secretary said:
"This is the right thing to do, by the United States. They should be congratulated and we should be relieved that Osama Bin Laden's terror, his own personal role in that terror, is now at an end"
The Foreign Secretary has today asked all our Embassies and High Commissions overseas to review their security and the FCO advises British nationals overseas to monitor the media carefully for local reactions, remain vigilant, exercise caution in all public places and avoid demonstrations, large crowds of people and public events.
Search the news archive
Published 2 May 2011