Press release
No trick to it, but not always a treat: road workers who work the graveyard shift
As dark nights loom and Halloween is upon us, Highways England is hoping to shed some light on the way it works in the East of England.
This news article was withdrawn on
This document is no longer current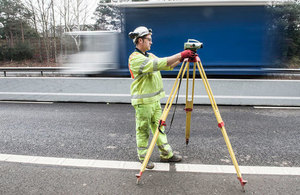 Hundreds of staff from Highways England and our contractors work around the clock to keep our major motorways and A-roads flowing.
Since January 2015 our contractor Amey, who looks after road maintenance in the East, has overseen hundreds of thousands hours of work – with the vast majority of those worked while most people were asleep.
And many more night-time shifts have been worked to complete the dualling of the A11, improve the Black Cat Roundabout on the A1 or widen the A14 between Histon and Girton.
Now a video has been produced, giving a flavour of some of the [overnight work carried out by Highways England.0(http://bit.ly/1Rx9YBG)
With £2bn of investment in roads to deliver across the East of England in the next five years, and lots of activity planned to deliver huge improvements to journeys across the region, Highways England is helping drivers to better understand why we work at night.
Aran Nugent, Highways England's Service Delivery team leader for the East of England, explained:
There are hundreds of staff working for Highways England through the night in the east of England to help meet the challenge of running the region's biggest roads.

Our road workers, traffic officers and control centre staff work through the darkness to deal with incidents, repairs and maintenance. Their dedication helps to keep drivers moving throughout the East.
Paul Brown, 46, from Ipswich, has worked in road maintenance roles across different sites in the region for the past 12 years.
Married with two sons, working at night is a choice for him.
Working nights can actually work well around the family, Paul said.

It's quiet in the day so I can get some sleep – probably more than if it was at night! I actually prefer working at night.
But Paul understands that working through the night means his team's work often goes unnoticed.
People have the misconception that there's nothing happening because they might not see anything when they drive by. We don't have a vast amount of staff, normally there's a few guys doing a number of roles.

We have to put the traffic management out first which requires at least four of us and then have to come back to the depot to get different vehicles for the different jobs like repairing or sweeping.
And the safety of his team is always on his mind when they work near traffic.
We have everything in place to make us as safe as possible, but drivers are not always taking enough notice of pre-warning signs. We clearly sign-post our work and put warning signs out a mile in advance, plus we use the overhead messaging signs on roads that have them, stating which lanes are closed. But almost every day we see drivers ignoring these so you are always looking out for each other.
Ben Whatley, 36, from Ongar, has been in the job since April and hasn't worked nights for long.
Working nights is new for me, and though I find it okay I struggle with the transition from nights to days. It eats into your weekend as you don't get a Friday night and are up early on the Monday morning, but it's nice the next week when it's the other way round.
He takes pride in responding quickly to keep road users safe.
The work is varied. It could be anything from debris in the carriageway, a dead deer, barrier repairs or incidents – there really is all manner of things. We're usually the first to respond, installing traffic management and checking to make sure drivers are safe from hazards.

And during the winter we'll also be involved with gritting, which is also done at night.
Highways England currently has many roadworks schemes on the ground in the East which utilise overnight shifts.
And our commitment to night working doesn't end with roadworks. Our customer contact centre is staffed around the clock – so anyone can call to get the latest information on their journey, at any time. And our Traffic England website gives drivers live traffic information, no matter the time or day.
Our traffic officers patrol major roads around the East through the day and night – and are there to help deal with incidents and keep traffic moving.
Our regional control centre, based at South Mimms, has staff monitoring CCTV screens 24/7, and we provide traffic updates to drivers via our website and Twitter feeds, and keep traffic information services up to speed with the state of our network.
For the latest traffic information, you can visit the Traffic England website or follow @HighwaysEast for the latest updates.
The Highways England customer contact centre is also available 24/7, 365 days a year. You can get traffic information and enquire about our work by calling 0300 123 5000.
General enquiries
Members of the public should contact the Highways England customer contact centre on 0300 123 5000.
Media enquiries
Journalists should contact the Highways England press office on 0844 693 1448 and use the menu to speak to the most appropriate press officer.
Published 30 October 2015