News story
NMO and AQSIQ renew Memorandum of Understanding
Memorandum of Understanding has been renewed to share information, knowledge and business opportunities in metrology.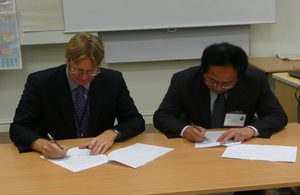 On 25 September 2014 a delegation of senior metrology officials from the General Administration of Quality Supervision, Inspection and Quarantine (AQSIQ), China National Institute of Metrology and China Metrology Association visited the National Measurement Office (NMO) to renew a Memorandum of Understanding (MoU) with NMO in the field of metrology.
In addition to an agreement to conduct exchange and cooperative activities in the field of legal metrology for mutual benefit, the MoU proivides cooperation in areas of metrology, such as:
metrological regulation
conformity control of measuring instruments
consumer protection
promotion of trade
international harmonisation of metrological regulation
wider markets for measuring instrument manufacturers
removal of barriers to trade in measuring instruments
competence of technicians and senior officials responsible for implementation of their national legal metrology systems
The cooperation may include joint meetings / conferences and workshops on the subjects of mutual interests; exchange and provision of information on metrological regulation, publications; exchange visits by business enterprise representatives, and of specialists, engineers and senior management officials in the field of legal metrology; and arrangements for mutual acceptance of test information for type approval and certification of measuring instrument designs.
The MoU should strengthen further the legal and scientific metrology relationships between the two organisations; and encourage business development in certification and metrology training between the UK and China.
Published 8 October 2014