Nigerian Presidential elections announced
Foreign Office Minister for Africa, Henry Bellingham has made a statement following the announcement.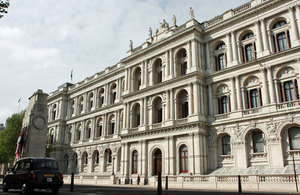 Following the announcement of dates for the Nigerian Presidential elections, the UK's Minister for Africa, Henry Bellingham MP, has stressed the importance of these elections for Nigerians, for Africa and for the International Community. 'It is vital that every effort is made to ensure credible elections so that Nigerian citizens have confidence in their democracy,' he said.
Mr Bellingham welcomed President Jonathan's commitment to credible elections and the appointment of the new Chair of the Independent Nigerian Election Commission, underlining the need to press on with transparent arrangements to overhaul the voter register. 'This is a daunting task in the time available in this, the largest democracy in Africa, 'he said. 'The UK as a close friend and partner of Nigeria is providing support in coordination with International Community partners, and we look to Nigeria to demonstrate political will and determined action to deliver the necessary preparations for a credible process.'
Mr Bellingham stressed that fair and impartial security for all candidates, voters and material including ballot boxes was another critical element. 'The 2011 elections must show to Africa and the world that all Nigerian politicians have abandoned violence and rigging,' he said. He also pointed to the important role of civil society who should actively support credible elections. 'A system of parallel voting tabulation and transmission of results from the bottom up is needed so that they are not falsified. As is the goal in all genuine democracies, every eligible voter should be able to vote and every vote must count.'
Mr Bellingham noted that party primaries would soon be held.
"As Nigeria celebrates 50 years of Independence, this is a tremendous opportunity for Nigeria to set an example to others in all aspects of its new democratic system, including the all-important party primaries, which need 'internal democracy' to produce credible leaders and policies for a new era of civilian democracy."
Published 8 September 2010