Nick Gibb responds to the results of the NAHT ballot: 30 November 2011
Schools Minister Nick Gibb responds to the results of the NAHT ballot on industrial action.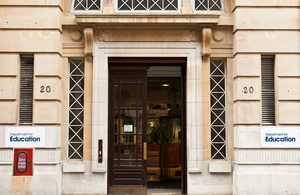 Schools Minister Nick Gibb said:
Reforms to public sector pensions are essential - the status quo is not an option. The cost to the taxpayer of teacher pensions is already forecast to double from £5 billion in 2006 to £10 billion in 2016 and will carry on rising rapidly as life expectancy continues to improve.
We've always been clear that the Teachers' Pension Scheme will remain one of the best available but we need to ensure the balance between taxpayer and the public sector employee is fair.
The government has been listening carefully to teachers and heads. We've put forward an improved offer which guarantees existing pension rights; gives teachers a defined, index-linked pension; and protects those closest to retirement from changes - in particular, heads and the longest serving senior staff.
We are continuing to hold serious discussions about the reforms with the teaching profession. It is right that the unions look very carefully at what is on the table before taking industrial action.
Strikes benefit no one - they damage pupils' education; disrupt and inconvenience parents' lives; and risk the professional reputation of teachers in the eyes of the public.
DfE enquiries
Central newsdesk - for journalists 020 7783 8300
General enquiries - for members of the public 0370 000 2288
Website: www.education.gov.uk/help/contactus
Published 9 November 2011