News story
Nick Clegg visits flooded areas and promises government support
Deputy Prime Minister says key thing is for everybody to work together.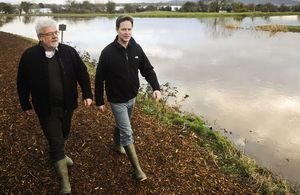 Today (Monday 10 February), Deputy Prime Minister Nick Clegg has been visiting areas of Somerset affected by recent flooding.
The Deputy Prime Minister met with the flood action group at their headquarters in Stoke St Gregory to thank volunteers for all the important work they are doing, and saw the effects of the floods on homes in the Burrowbridge area.
Nick Clegg said:
We're pulling out every single stop that we can in Whitehall through the COBR meeting system to make sure that every bit of government works to deal with this problem. The government needs to strain every sinew, as we now are.

And we need to work together, that's the key thing: the military, the police, the emergency services, the farming community, everyday families, everybody needs to work together.
He met with Nicola and Jonathan Coates in Stoke St Gregory to discuss the effect that the floods have had on their business, the Willow and Wetlands Visitor Centre. He also visited a local company, Airtech, in Burrowbridge. The Deputy Prime Minister spoke to owner John Davison and staff working there to hear about the problems caused by the floods for the business.
On local businesses, Nick Clegg said:
The people I've met here overnight and this morning, I think what they are more interested in is not who is blaming who, but how people are working together to make sure their businesses are back to full strength, that their homes are kept safe, and that their farms are back to full operation.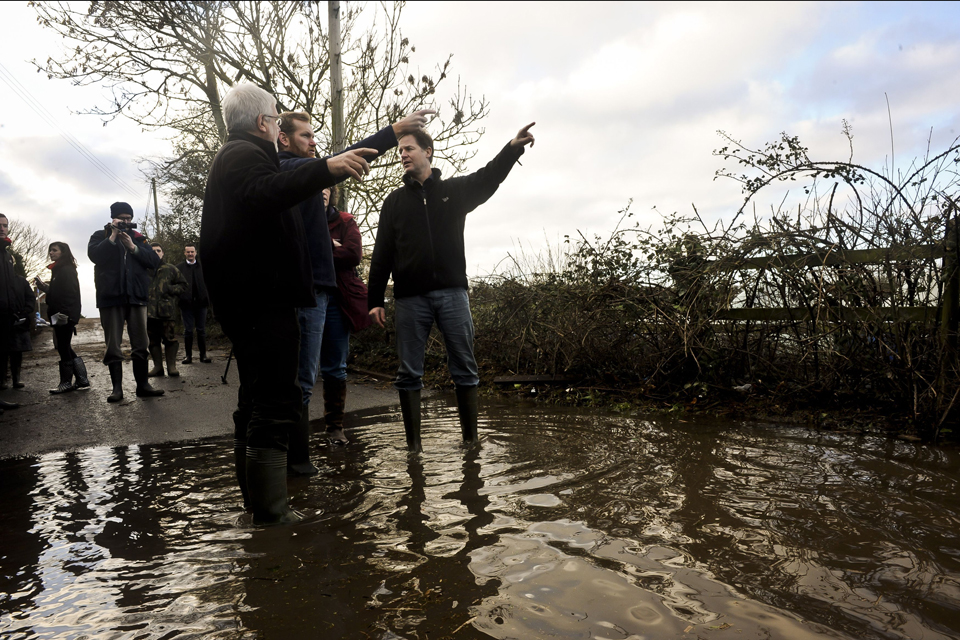 In Langport, the Deputy Prime Minister went to the Riverside Cafe to meet with representatives from the internal drainage board to discuss longer term dredging and draining plans for the area.
Talking about how the government is supporting these plans, Nick Clegg said:
We're putting more money forward, we're making sure that money is made available, we've changed the rules so that local councils who come forward to the government asking for money in these emergency circumstances get more of the money to cover more of the costs that they are having to face.
Published 10 February 2014