Nick Clegg urges resolve in cutting debt
Deputy Prime Minister Nick Clegg has said there must be "no blinking" on the government's programme of deficit reduction.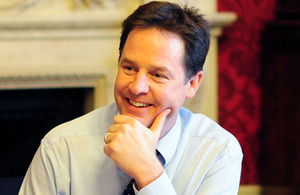 Addressing business leaders at the CBI dinner, Mr Clegg insisted the shared agenda of cutting debt is the "glue which binds this coalition together".
The Deputy PM called for a move away from the short-termist debt-driven economy of recent decades and towards a "less spectacular" but "more prosperous and more profitable" future.
He said:
We can lay the foundations for an economy where people invest rather than simply consume, where stability is as valuable as risk, where people borrow responsibly; and their governments do too.

It may be less spectacular; sturdy and steady instead. We won't get there overnight - this is a generation's work. But it is a better, more prosperous and more sustainable future.
Speeches and transcripts: Deputy Prime Minister's speech at CBI annual dinner
Published 18 May 2011