News story
Nick Clegg statement on employment statistics
The Deputy Prime Minister Nick Clegg gave a statement on the latest employment statistics released today.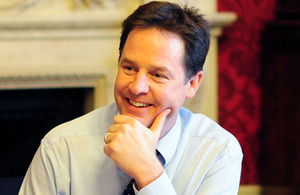 Figures released today by the Office for National Statistics (ONS), show that employment has seen the largest quarterly rise since records began over 40 years ago and the unemployment rate has fallen again to a new 5-year low.
Deputy Prime Minister Nick Clegg said:
We are starting to see the British economy firing on all cylinders and this means more people are in work today than ever before.

We have fewer unemployed young people, falling long term unemployment and the highest ever female employment rate.

The coalition government is not just focused on balancing the books, but also on creating more jobs and growth outside of London and building a fairer society for this generation and the next.
Published 14 May 2014