Nick Clegg delivers details of the Green Investment Bank
Deputy Prime Minister Nick Clegg today gave more detail on the Coalition's agenda for climate change and the green economy.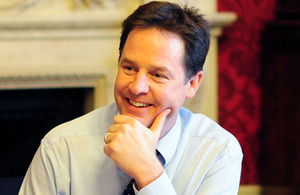 Mr Clegg gave more detail on how the Coalition will meet its ambition to be the greenest government ever.
In his speech at Climate Change Capital in London, Mr Clegg gave details of the workings of the world's first Green Investment Bank.
The bank is intended to bridge the gap between venture capital and the green economy, provide the finance for low carbon infrastructure and lay the foundation for long-term, balanced growth.
The Deputy Prime Minister said that the Government will bring forward legislation to ensure both the operational independence and enduring nature of the Bank and has guaranteed £3 billion for the initial capitalisation of the Bank.
Mr Clegg said early possible priorities for the Bank are offshore wind, waste, and non-domestic energy efficiency.
We are also looking at the potential for using the Bank to help deliver the first stages of the Green Deal.
Mr Clegg said that the Green Investment Bank is only part, though a vital one, of the Government's action to seize the opportunities of a green economy, and meet the obligations of current and future generations.
Read the full text of Deputy Prime Minister's speech on the Green Growth.
Published 23 May 2011