Nick Clegg attends Holocaust Memorial Day 2014 event
Nick Clegg speaks about remembrance as an important thread which binds us together as we face the challenges of the future.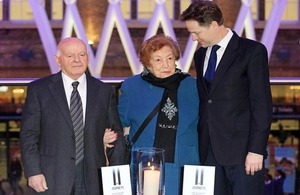 The Deputy Prime Minister attended a Holocaust Memorial Day Trust event this morning at King's Cross station with survivors of the Holocaust Ben Helfgott MBE (Honorary President of the Holocaust Memorial Day Trust) and Sabina Miller; and Eric Murangwa, a survivor of the genocide in Rwanda who now runs an organisation called Football for Hope, Peace and Unity which uses football to unite communities.
2014's Holocaust Memorial Day theme "Journeys" reminds us of the experience of those affected by the Holocaust and subsequent genocides and the journeys that people were forced to undertake.
The Gospel Choir of the Maria Fidelis Catholic School, Camden performed songs at the event which Jonathan Simpson, the Mayor of Camden, also attended.
Speaking at the event, Deputy Prime Minister Nick Clegg said:
We are indeed all here to remember. Because if we forget we endanger the future by risking a repeat of the past. It's well known that guards in the Nazi concentration camps would torment their victims by saying 'No one will believe you. No one will remember. And if you say it, no one will believe you or care what you have to say.'

So forgetting would be a betrayal of what those people endured in those horrific circumstances. It would be a betrayal of the values of reconciliation which is embodied in this memorial day. It would also deprive the generations of today and of the future of the knowledge of history which is such an important inoculation for tragedies in the future.

I know a little bit myself from my own family's experience of the value of remembrance. My mother spent many years with her sisters in a Japanese prisoner of war camp in Indonesia. My brothers and my sister and I were aware of this as we grew up, but my mother sheltered us as small children of the horrific details, and it was only when we were older that she told us about everything she'd been through. It made a lasting impression on me, of everything she'd been through, an enormous impression on my outlook on things.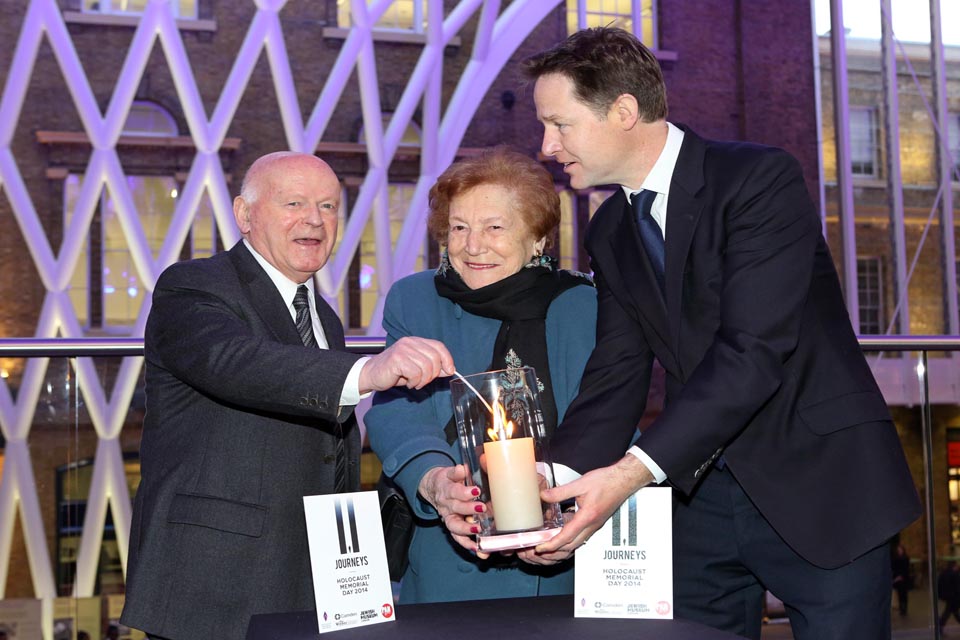 So remembering the past, even if it's of the past which thankfully this generation is not experiencing, is an extraordinarily important thread which binds us together as we face the challenges of the future. And I'm hugely grateful to the Holocaust Memorial Day Trust for all the work they're doing. I think it's enormously impressive that they're organising around 2,000 events up and down the country.

It is a huge honour to meet you Ben Helfgott, and you Sabina Miller. I was talking to Sabina when we were listening to the lovely Maria Fidelis choir singing earlier, about your experience as a 16 year old girl fending for yourself in the cold wildernesses of the woods in Poland. Your tales, your resilience, your persistent good humour is an example to all of us, so thank you very much for being here.

I hope the ceremonies and events later in the day go well as well. And with that I would really like to thank everybody involved; thank you for being here, and I hope that year in year out we continue to remember the Holocaust for all of society and for all generations in the future. Thank you very much.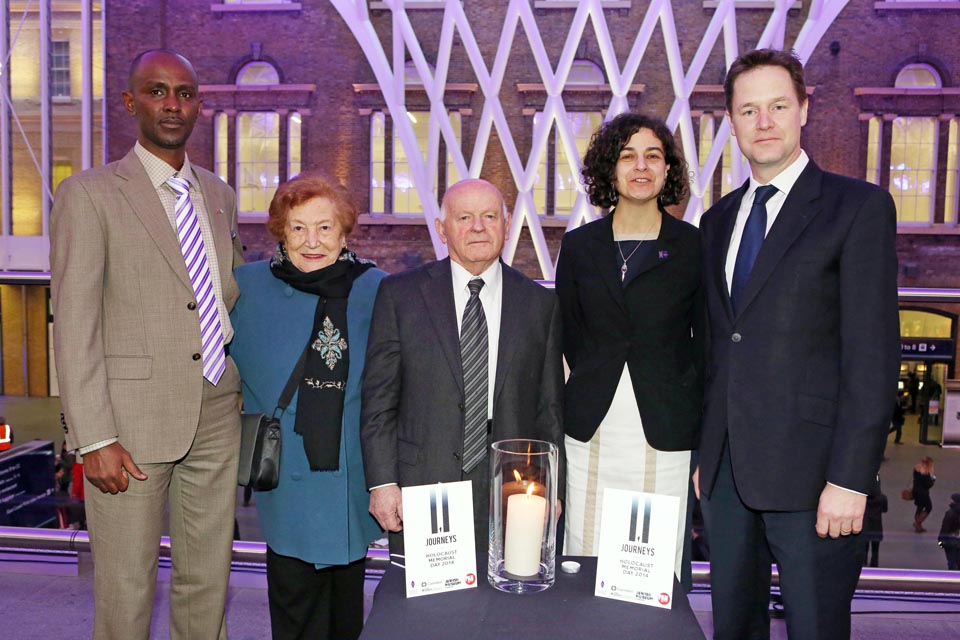 Published 27 January 2014