Nick Clegg announces new UK-NL Strategic Business Dialogue.
The Deputy Prime Minister of the United Kingdom, Rt Hon Nick Clegg MP, announced a new Strategic Business Dialogue between the two countries on 15 November.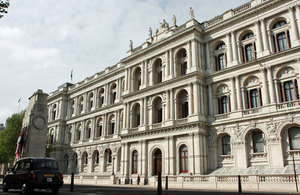 Speaking alongside his Dutch counterpart Maxime Verhagen, the Deputy Prime Minister said that the new UK-Netherlands Strategic Business Dialogue will provide a forum for key British and Dutch business leaders to identify business opportunities and tackle barriers to trade. There will be a particular focus on the knowledge economy, which will help create growth and jobs in both countries.
The Deputy Prime Minister said:
"Many Dutch companies invest heavily in the UK and have created thousands of jobs. There will be people who travel in trains on Merseyside, buses in London and decorate their walls with paints that are made by Dutch companies. And we work closely together on major business infrastructure projects, for example building a sustainable offshore industry in the North Sea.
"There are also many major British companies reaping the huge benefits of investing in the Netherlands too. But we think we should do more to foster the close trading links we have enjoyed for generations. I met business leaders in The Hague this morning and agreed that a new Strategic Business Dialogue between our two countries will help us work together to better identify the opportunities and tackle the barriers to growth and job creation and ensure our historically strong trade links continue long into the future."
The Deputy Prime Minister's visit began with a breakfast meeting to discuss growth and job creation with senior business leaders in the Hague. He then moved on to meetings with the Dutch Prime Minister, Deputy Prime Minister and Foreign Minister, before visiting students and staff of Erasmus University and top representatives of the international legal institutions based at the Peace Palace. He also attended the Dutch launch of Global Entrepreneurship Week.
The UK is looking forward to hosting the joint UK-Netherlands offshore wind event in Cambridge next year, with the common aim of creating a sustainable and economically feasible wind industry in the North Sea.
DPM Nick Clegg's visit to The Netherlands
Rt Hon Nick Clegg MP - visit to The Netherlands November 2010
Published 16 November 2010