News story
Nick Clegg announces funding details for free school meals
The Deputy Prime Minister, Nick Clegg, has announced £1 billion for the Department of Education to fund the free school meals commitment.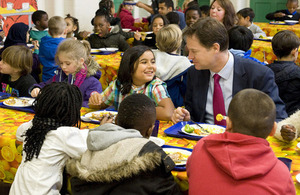 Following the announcement in September that every child in reception, year 1 and year 2 in state-funded schools will receive a free school lunch, today the government has confirmed how the project will be funded in the the Autumn Statement.
The government will be providing revenue funding of £450 million in 2014 to 2015 and £635 million in 2015 to 2016 to the Department for Education (DfE) to fund this commitment. This is new money into the DfE budget.
It will also make £150 million of capital available to ensure that schools can build new kitchens or increase dining capacity where necessary. £70 million of this will be new money from the Treasury (HMT) and around £80 million will be from unspent DfE maintenance budgets.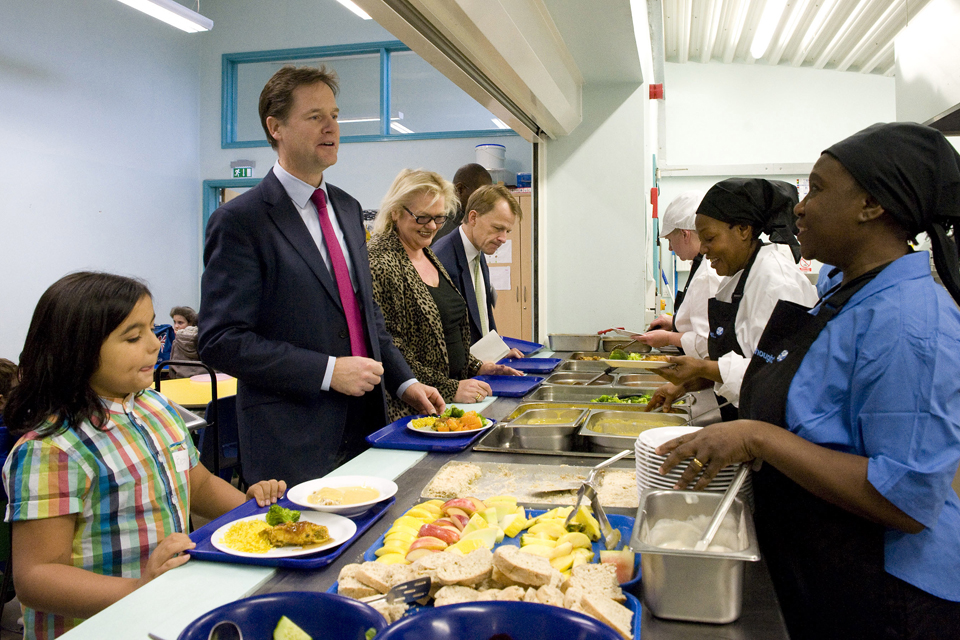 On a visit to a primary school in Lambeth, Deputy Prime Minister Nick Clegg said:
Early on I made it very clear that universal free school meals would be my personal priority in this Autumn Statement and I'm proud that we are now delivering it. From the start of the next school year, every single infant school pupil will be able to sit to down to a free school lunch.

Today, I can announce that we're providing more than £1 billion to ensure children get a healthy meal in the middle of the day. We're also making sure that schools are not left out of pocket by putting £150 million on the table to fund new kitchen and dining facilities where they are needed.

Every child deserves the best possible start in life, and at the same time we are doing all we can to help ease the pressure on household budgets. This not only encourages positive eating habits and helps improve concentration and performance in the classroom, but this will also mean significant savings for families.

Providing universal free school meals will help give every child the future they deserve, building a stronger economy and a fairer society.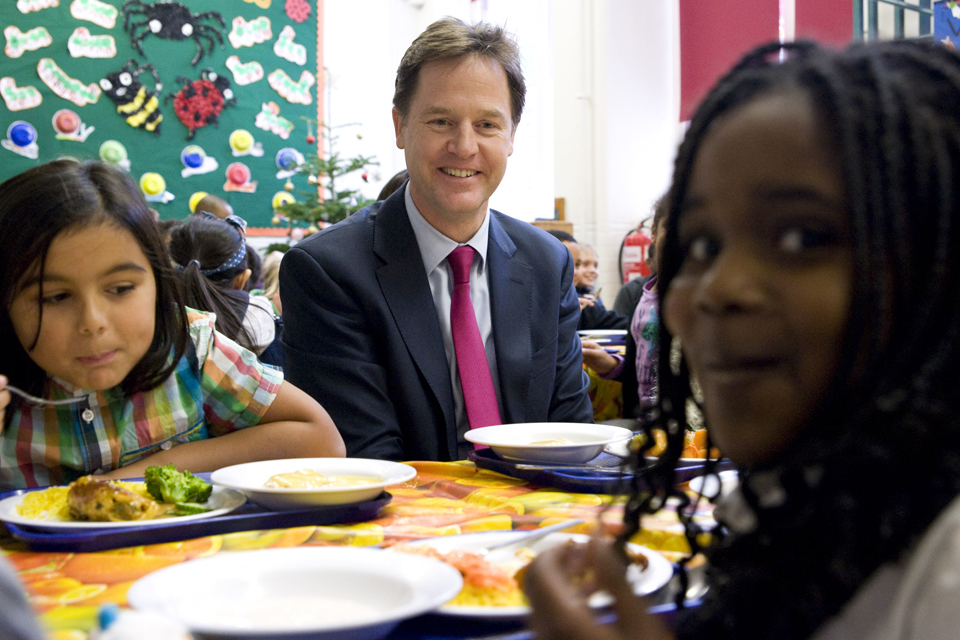 Universal free school meals for primary school pupils were a key recommendation in a recent review of school food produced independently for the DfE. The School Food Plan, published by Henry Dimbleby and John Vincent in July this year, recommended that government embark on a phased roll out of free school meals for all children in all primary schools.
The School Food Plan presented evidence that this would lead to positive improvements in health, attainment and social cohesion, and help families with the cost of living:
the average school meal costs £437 per child per year
many children on low incomes are not eligible for free school meals: approximately 4 out of 10 children (from all age groups) living in poverty are not eligible
Published 5 December 2013