Press release
Next phase of work for Rising Bridge roundabout
Next phase of upgrade to Rising Bridge roundabout is due to start on Friday 13 May.
This news article was withdrawn on
This document is no longer current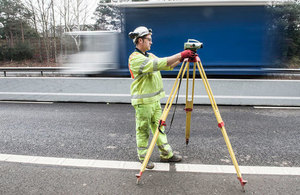 The next phase of £4.5 million upgrade of Rising Bridge roundabout near Haslingden benefitting cyclists, pedestrians and drivers is due to start on Friday 13 May.
Highways England is providing new traffic lights, pedestrian crossings and cycle lanes, linking villages, schools and businesses on either side of the busy A56. The roundabout – which links the A56 to the A680 Blackburn Road – will also be resurfaced and new lights will be installed.
The operating hours of night closures and lane closures to support the work will be extended for work on the second phase from 13 May.
The A56 will be closed overnight between Rising Bridge roundabout and the A679 Burnley Road from 8pm until 6am (7am at weekends) up to 7 days a week for lighting work.
Lane closures will also be in place on the A680 Blackburn Road during the same times. In the meantime, both parts of the improvement scheme will continue to take place between 10pm and 5am.
Highways England project manager John Lyssejko said:
We're improving some of England's busiest A roads so that they support local communities as well as the drivers passing through them, and I'm pleased that the scheme at Rising Bridge roundabout will serve villages, schools and businesses in the area.

We continue to do all we can to minimise disruption while work is taking place, with the closures taking place overnight when the road is quietest. When the scheme is complete, drivers and residents will be able to benefit from new traffic lights, pedestrian crossings and cycle lanes, as well as brighter and smoother journeys through the roundabout.
The scheme will feature 'intelligent' traffic lights, which will use sensors in the road to monitor traffic approaching from each direction and adjust the lights accordingly. The lights will allow pedestrians and cyclists to cross when it is safest to do so, and will remain on green for longer at the busiest junctions.
New steel safety barriers are also being installed, and a pedestrian crossing which links Rising Bridge Road to the Hall Park housing estate is being upgraded. A new island is being created in the centre of the A56 to make it easier for residents to safely cross from one side to the other.
Work on the scheme started at the end of March and more details are available on the scheme website.
General enquiries
Members of the public should contact the Highways England customer contact centre on 0300 123 5000.
Media enquiries
Journalists should contact the Highways England press office on 0844 693 1448 and use the menu to speak to the most appropriate press officer.
Published 9 May 2016