News story
Next generation of ePassport gates opened at Gatwick
Gatwick airport unveils the new generation of ePassport gates.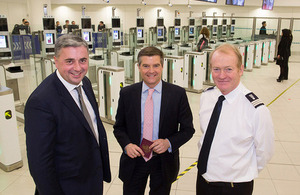 The future of travel was on display at London Gatwick today as Immigration Minister Mark Harper officially opened the new generation of ePassport gates.
The state of the art machines allow passengers with an electronic chip in their passport to pass quickly and efficiently through immigration controls.
ePassport gates have proved popular with travellers. More than 10 million passengers have used them across the UK in the past year with numbers now operating at 1 million a month.
Mark Harper opened the gates during his visit to Border Force operations at London Gatwick Airport South Terminal today. London Gatwick now has the largest single bank of ePassport gates at any port in the UK.
UK economy
Immigration Minister Mark Harper said:
Keeping the UK's border secure is our priority. At the same time we want to welcome legitimate visitors and trade which contributes to the UK economy.

Using the latest technology helps us to do both and is popular with passengers. The e-Passport gates here at London Gatwick Airport provide both a fast and convenient way for tourists, business visitors and Britons returning home to pass through the border securely.
The event was also attended by Stewart Wingate, CEO of Gatwick Airport Ltd.
Gatwick Airport has invested significantly towards the cost of the project so far.
Stewart Wingate, CEO of London Gatwick, said:
Gatwick is delighted to be the first airport in the UK to offer this innovative new technology. It will make the journey of arriving passengers with chipped passports much more efficient. We will also offer the largest bank of ePassport gates of any UK airport – ensuring that as many passengers as possible benefit.

We have worked closely with the Border Force to invest in this technology and bring it to Gatwick quickly – demonstrating our focus on continuing to drive improvements and deliver the best passenger experience.
ePassport gates first went live in UK airports at Manchester Airport in 2008. This bank of gates replaces the first generation which were opened at London Gatwick South in June 2011.
The gates which can be used by anyone with a UK or European 'chipped' passport who is aged 18 or over, use facial recognition technology to compare the passenger's face to the digital image recorded in their passport. Their details are then automatically checked against Border Force systems and watchlists. Once the checks are made, the gates open automatically to allow the passenger through the border.
The system is monitored by Border Force officers and anyone rejected by the gates will be sent to an alternative channel to have their passport checked.
Published 4 December 2013