World news story
Newton International Fellowship Scheme: Call for Applications
The application form is now available on the Royal Society's online e-GAP application system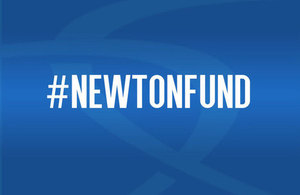 The British Academies (Royal Society, Academy of Medical Science, British Academy) are inviting Brazilian early career researchers to apply for the Newton International Fellowship scheme. The application form is now available on the Royal Society's online e-GAP application system and the deadline for applications is Wednesday 25 February 2015.
The Fellowships enable researchers to work for two years at a UK research institution with the aim of fostering long-term international collaborations. Applicants must have a PhD, or be in the final stages of their PhD in the fields of the natural sciences, physical sciences, medical sciences, social sciences, and humanities; should have no more than seven years of active full time postdoctoral experience at the time of application; and must be working outside the UK and not hold UK citizenship. Newton Fellows will receive an allowance of £24,000 (tax exempt) to cover subsistence and up to £8,000 to cover research expenses in each year of the Fellowship. A one-off relocation allowance of up to £2,000 is also available.
This is an initiative funded by Newton Fund and from 2015 additional inward and outward Fellowships will be supported through the fund to foster the academic exchange and mobility between Brazil and the UK.
Service
Applications are available on the Royal Society's online e-GAP application system.
Application deadline: 25 February 2015. Referee deadline: 4 March 2015. Results expected: August 2015. Awards available for start date: 1 October 2015.
Further details are available from the Newton International Fellowships website.
About Newton Fund:
The Newton Fund is a £375 million fund over five years intended to promote the economic and social welfare of partner countries. The UK and Brazilian collaboration with strengthen research and innovation partnerships. It was launched by the Chancellor George Osborne during his visit to Brazil in April 2014. The Fund will invest £27 million (approximately R$ 94 million) until 2017 with Brazil. The programs awarded under the Newton Fund are between Brazilian and British institutions, and the Delivery Partners will be responsible for promoting the calls.
The Fund is part of the UK's Official Development Assistance (ODA) commitment to promote initiatives to strengthen social and economic development of emerging countries.
About British Academy:
The British Academy is one of several UK delivery partners for the Newton Fund and is working with a number of partners overseas. Other UK delivery partners include the Royal Society, Royal Academy of Engineering, Academy of Medical Sciences, British Council, HE International Unit, Research Councils, Met Office and Innovate UK.
The British Academy's overseas partners are: CONFAP (Brazil); Chinese Academy of Social Sciences (China); CONACYT and the Mexican Academy of Sciences (Mexico); NRF (South Africa); TUBITAK (Turkey); NAFOSTED (Vietnam).
Published 30 January 2015