World news story
News article Human Rights Council 34: Universal Periodic Review of Uganda
From:

Part of:

Published:

16 March 2017
This statement was delivered during the 34th session of the Human Rights Council on 16 March 2017.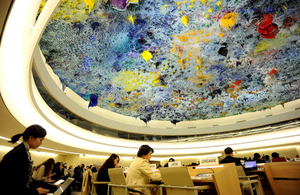 The United Kingdom thanks Uganda for its continued commitment to the Universal Periodic Review process. We welcome the government's acceptance of 143 recommendations following its UPR examination in December 2016.
We particularly welcome Uganda's acceptance of the UK's recommendation to consult a broad range of civil society actors and reflect their views as part of the implementation of the NGO Act 2016, to ensure an open, accountable and vibrant NGO sector. We encourage broad consultation to build a national consensus and protect the role of an active civil society.
We welcome Uganda's establishment of human rights directorates in the police, military and prison forces. We encourage Uganda to adequately resource and support the work of these directorates.
We continue to urge Uganda to protect the fundamental freedoms of association, peaceful assembly and expression and to ensure an open operating environment for political parties, NGOs and the media. They play a vital role in holding the government to account on service delivery, challenging corruption, improving governance and protecting human rights.