World news story
News article Human Rights Council 34: Universal Periodic Review of South Sudan
This statement was delivered during the 34th session of the Human Rights Council on 17 March 2017.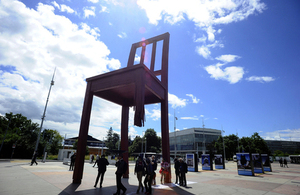 The UK thanks South Sudan for its commitment to the Universal Periodic Review process.
We welcome South Sudan's development of a National Strategy for Human Rights and the Joint Communiqué Against Sexual Violence, as well as the recent establishment of a technical committee for the Commission for Truth, Reconciliation and Healing. We also welcome the President's call for a National Dialogue, and urge those conducting the process to ensure that it is fully inclusive.
However, we remain deeply concerned by the appalling levels of sexual and ethnic violence committed by all sides since the outbreak of fighting in December 2013. We must see accountability for the perpetrators of these crimes.
The extensive mandate given to the National Security Service poses a serious threat to freedom of expression. This has resulted in increased harassment and detention of journalists.
We urge South Sudan to continue to work with the UN Commission on Human Rights in South Sudan and to work cooperatively with the African Union to establish a Hybrid Court, and halt the rising tide of impunity.
Published 17 March 2017