Newmarket sausages become Britain's fiftieth protected food
Newmarket Sausages have become the fiftieth British food product to earn European recognition for their quality, history, and links to the local…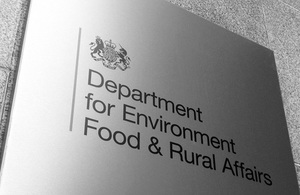 Newmarket Sausages have become the fiftieth British food product to earn European recognition for their quality, history, and links to the local area.
After a lengthy consultation period, the Suffolk-based banger will now carry a badge declaring its Protected Geographical Indication (PGI) status. Newmarket Sausages now joins the ranks of Cornish Pasties, Parma Ham and Champagne, which have all earned the same quality mark.
Food and Farming Minister David Heath said:
"Not only are PGIs important for keeping traditional foods and recipes alive, they also make a significant contribution to the local and national economy. The recipe for the Newmarket sausage is unchanged since the days of Queen Victoria and the original recipe has been passed down the generations. This is yet another example of the quality of British foods and we can be justly proud of the position of our produce in the international market."
The sausages, which were traditionally enjoyed by race-goers at the historic Newmarket course, have been made in the area since the 1880s. Queen Victoria was said to enjoy them and was the first member of the Royal Family to issue the sausages with a warrant, which continues to this day.
As well as a mark of quality, PGI products make a significant contribution to the national, and local, economy. The UK Protected Foods Names Association estimates that recognised products are worth around £1bn. Melton Mowbray Pork Pies and Stilton cheese, close neighbours in the Leicestershire area, rack up around £100m in sales and tourism.
Matthew O'Callaghan, Chairman of the UK Protected Food Names Association added:
"Having had some part to play in this application, I am delighted that it has gained approval so quickly. It shows what producers can achieve once they agree to work together to protect their food heritage.
Newmarket Sausage Association Chairman and Managing Director of local producer Musk's, Chris Sheen, said:
"This is something that has been in the pipeline for some time. It will help protect the reputation of regional foods, promote rural and agricultural activity within the Newmarket area and it recognises the status and longevity of the product."
Speaking on behalf of Powters, another local producer, Managing Director Grant Powter said:
"I am delighted that this regional food product has now gained the protection it deserves by virtue of the reputation and quality which have been traditionally attributed to the making of sausages in Newmarket for more than 150 years."
Published 29 October 2012