Newest recovery centre prepares to welcome first tenants
Tedworth House, the newest of the Army Personnel Recovery and Assessment Centres (PRACs), is getting ready to open its doors to welcome its first ever tenants.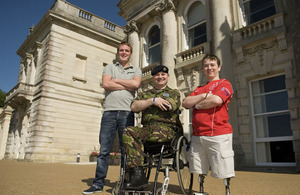 The PRAC, set in the heart of Tidworth Garrison, Wiltshire, one of the Army's largest garrison towns, is one of several centres which are being created across the country. It will provide comprehensive support to wounded, injured and sick personnel and their families for life.
Already, key facilities such as temporary residential accommodation, classrooms, catering facilities and a gymnasium are up and running, which will allow recovering Armed Forces personnel to move in during July 2011.
Help for Heroes has committed £32m to the renovation and running of Tedworth House and, as the lead for recovery, the MOD has committed £93m up to 2020 to provide support to all wounded, injured and sick personnel.
This includes the provision of military and civilian personnel to co-ordinate, manage and deliver the Army Recovery Capability, plus staff for each of the Personnel Recovery Centres.
Renovation work at Tedworth House is due to be completed in spring next year and, when open, the centre will be able to provide comprehensive support and residential accommodation for up to 50 wounded, injured and sick personnel from all three Services in the south of England.
Private Josh Campbell from, 23 Pioneer Regiment Royal Logistic Corps, was injured in Afghanistan when the vehicle he was travelling in struck an improvised explosive device. He said:
It's been really tough since I was injured in 2009 but the treatment I received at Selly Oak and Headley Court has been brilliant and the support I get from the Personnel Recovery Unit has been fantastic.
I am also grateful for the assistance I've received from Help for Heroes and I'm really looking forward to taking advantage of all the great support facilities Tedworth House has to offer.
Brigadier Mike Griffiths, Director Personnel Services (Army), said:
This is a great achievement in the delivery of the Army Recovery Capability and one which pays tribute to the strong relationships that have been forged between the Ministry of Defence, Help for Heroes and the Royal British Legion.
Bryn Parry, Chief Executive Officer and co-founder of Help for Heroes, said:
When I think back to October 2007 when we first started in the Tidworth Tin Hut, the thing I always remember is driving past Tedworth House on the way to work and thinking, wouldn't it be great if that could be a recovery centre for the guys and girls.
It's been an incredible effort on all fronts to get it ready in such a quick space of time but to know that in a few days the first residents will be in is fantastic.
It's a truly awesome moment for myself and Emma and everyone who has worked so hard to make this moment possible.
Help for Heroes also intends to introduce a pathfinder 'support hub' at the PRAC to provide an ongoing welfare and specialist support centre for wounded, injured or sick soldiers after they transition to civilian life.
Chris Simpkins, Director General of the Royal British Legion, said:
The Royal British Legion stands shoulder to shoulder with all who serve, so the Legion's support for the Army Recovery Capability is central to our welfare strategy in this our 90th year, and well beyond.
We are delighted that we will be contributing to the operating costs of PRAC Tidworth, and providing welfare support and advice to residents. We support the men and women who have given so much for our country - whether they return to duty or move into civilian life.
That is what the Legion has been doing for 90 years. The wounded, injured and sick deserve nothing less. The Royal British Legion will continue to support them, and their families, for the rest of their lives.
Tedworth House is just one centre in the network of five Personnel Recovery Centres that form part of the Army Recovery Capability, a joint multi-million pound venture between the MOD, Help for Heroes and the Royal British Legion.
These centres will, within a military environment, deliver co-ordinated support to recovering personnel from across the Armed Forces.
Published 30 June 2011