Newcastle gunners receive Afghanistan medals
Members of 132 Battery, 39 Regiment Royal Artillery, recently received their Afghanistan Operational Service Medals at their Albemarle Barracks home in Newcastle upon Tyne.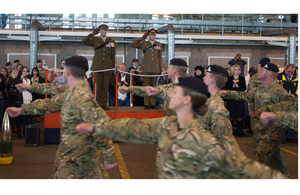 Family and friends proudly watched as their loved ones were presented with their medals by Colonel Peter Williams.
The 72 officers and soldiers returned from Afghanistan last week after spending six months in Helmand province providing precision fire support to 20th Armoured Brigade with their hi-tech Guided Multiple Launch Rocket System.
Almost half of the Battery had served in Afghanistan previously, and for some it was the fourth time they had deployed overseas.
Battery Commander Major Michelle Norman led the medal parade and said it was a very successful tour:
We provided precision artillery fire for the troops based in Afghanistan. It was long hours, and a lot of responsibility because I had a big Battery to look after. But we all came back safe, and we all came back together, and that's what's important.
Many of the soldiers are now looking forward to spending some time with their families and possibly taking a holiday before they return to work in June. It's tough being separated for such a long time; my son Ewan is nearly two and he was a one-year-old when I left.
To get through it you just keep thinking that you are doing your dream job, and look forward to having quality time together when you are reunited.
Warrant Officer Trevor Beynon was over the moon to be reunited with his family after several months on the front line:
I've really missed my wife and two sons and found it hard being away from them. We have been away for six months working in Afghanistan, but had to do pre-deployment training before that, so it's almost a year apart from your loved ones.
It was tough missing Christmas and my youngest son Will's birthday, but I returned home for my eldest son Ethan's birthday and we had a great party to make up for lost time.
The soldiers of 132 Battery have been replaced in Afghanistan by soldiers from the regiment's 176 Battery. 39 Regiment Royal Artillery is the only regular Army unit equipped with the state-of-the-art Guided Multiple Launch Rocket System (GMLRS).
The GMLRS provides the Army with huge amounts of firepower. In combat situations, guided rockets are used to hit precision targets while safeguarding friendly forces and the local population.
Published 17 April 2012