World news story
New Zealand and British business hear the facts on Visas
Top British civil servant, Jeremy Oppenheim, known as the ambassador for Visas, tells an Auckland audience about a premium visa service.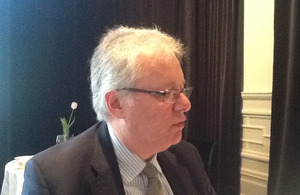 Speaking at the Northern Club, he told the British and New Zealand Business Association that if the service was implemented it would mean visas would be available in three days. He said:
A range of open and inviting routes into the United Kingdom is now available and we can process most working visas within ten days.
However, Mr Oppenheim admitted:
Immigration is a very hot topic and striking the balance between good and bad immigration is important.
Mr Oppenheim says he has been in New Zealand talking to local officials and government ministers, and collecting ideas to make entry into the UK more efficient.
Further information
Published 24 April 2013