News story
New Year Honours for service personnel and defence civilians 2015
125 UK service personnel have been granted state honours by Her Majesty The Queen in the annual New Year Honours List.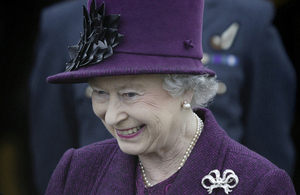 31 civilians have also been honoured either for work in the Ministry of Defence or in other aspects of UK Defence.
The 156 defence personnel named in the New Year Honours List for 2015 are listed below.
Royal Navy Awards
Appointments to the Military Division of the Most Honourable Order of the Bath
As Companion
Vice Admiral Peter Derek HUDSON CBE
Promotions in and Appointments to the Military Division of the Most Excellent Order of the British Empire
As Knight Commander
Vice Admiral David George STEEL CBE DL
As Commanders
Brigadier Mark William DUNHAM OBE
Rear Admiral Russell George HARDING OBE
Rear Admiral Ian Michael JESS
Captain Paul MARSHALL
As Officers
Captain Paul Richard CASSON
Lieutenant Colonel Simon CHAPMAN Royal Marines
Captain Steven HOLT
Commander Ian Herbert LYNN
Lieutenant Colonel James Patrick MCLAREN Royal Marines
Commander Stephen Mark Richard MOORHOUSE
Captain Peter James TOWELL
As Members
Lieutenant Jack BRIGHT
Warrant Officer 2 (Communications Technician) Stephen BULLEN
Chief Petty Officer Airman (Aircraft Handler) John CAMPBELL
Lieutenant Commander Shatadeep CHATTERJEE
Warrant Officer 1 (Physical Trainer) Darren Sean CHILDS
Lieutenant Colonel Anthony Luciano DE REYA Royal Marines
Chief Petty Officer Engineering Technician (Marine Engineering Submarines) Colin DUGUID
Major Darren HUNT MM Royal Marines
Warrant Officer 1 (Regimental Sergeant Major) Paul Wilson MCARTHUR Royal Marines
Lieutenant Commander Rachel Mary SINGLETON
Lieutenant (Acting Lieutenant Commander) Graham THORLEY
Lieutenant Commander Peter James WHITEHEAD
Warrant Officer 1 Air Engineering Technician Stephen Paul WOOD
Queen's Volunteer Reserves Medal
Warrant Officer 2 Brian Robert JONES Royal Marine Reserves
Associate of the Royal Red Cross
2nd Class
Lieutenant Sarah Kay THOMPSON Queen Alexandra's Royal Naval Nursing Service
Army Awards
Appointments to the Military Division of the Most Honourable Order of the Bath
As Knight Commander
Lieutenant General Christopher Michael DEVERELL MBE, late Royal Tank Regiment
As Companions
Major General Michael David CONWAY, late Adjutant General's Corps (Army Legal Services Branch)
Major General John CRACKETT TD, late Royal Corps of Signals Army Reserve
Major General Richard Roderick DAVIS CBE, late Corps of Royal Engineers
Promotions in and Appointments to the Military Division of the Most Excellent Order of the British Empire
As Knight Commander
Lieutenant General Gerald William BERRAGAN CB, late Royal Regiment of Artillery
As Commanders
Major General Benjamin John BATHURST OBE, late Welsh Guards
Brigadier William James Frank BRAMBLE OBE, late Royal Regiment of Artillery
Major General Alastair Scott DICKINSON, late Corps of Royal Engineers
Colonel James Jefferson LEARMONT, late Royal Regiment of Artillery
Brigadier Timothy Patrick ROBINSON OBE, late The 9th/12th Royal Lancers
Colonel Mark John THORNHILL, late Royal Regiment of Artillery
As Officers
Lieutenant Colonel Timothy John Simon ALLEN, Royal Corps of Signals
Lieutenant Colonel Robin BAKER, Royal Regiment of Artillery
Colonel Christopher Brendan Kevin BARRY, late The Royal Welsh
Lieutenant Colonel Karen GRAHAM, Adjutant General's Corps (Staff and Personnel Support Branch)
Lieutenant Colonel Andrew Martin HART, The Royal Irish Regiment
Lieutenant Colonel Gregory Keith Mark HUGHES, The Royal Logistic Corps
Colonel Andrew David MOFFAT, late The Royal Logistic Corps
Lieutenant Colonel Dominic Charles MORGAN, The Royal Logistic Corps
Colonel Duncan Anthony Francis Harlidge PARKHOUSE QHP, late Royal Army Medical Corps
Colonel Simon Patrick PLUMMER MBE, late The Rifles
Lieutenant Colonel Thomas Richard TRINICK, Royal Army Medical Corps Army Reserve
As Members
Acting Colonel Markham Patrick BRYANT, Army Cadet Force
Lieutenant Colonel Brian Thomas BURKE, Corps of Royal Electrical and Mechanical Engineers
Lieutenant Colonel David Stewart CLOUSTON, The Royal Logistic Corps
Major Christopher Colin ELWORTHY, Corps of Royal Engineers
Captain Timothy Mathew FLEMING, The Parachute Regiment Army Reserve
Major James Richard Hamilton GAYNER, The Rifles
Lieutenant Colonel Jonathan James GREAVES, Corps of Royal Engineers
Major Alec Ewart HARVEY, Royal Regiment of Artillery
Acting Major Darren David HEMBERY, Corps of Royal Engineers
Warrant Officer Class 2 Mark Adrian HILL, The Yorkshire Regiment Army Reserve
Acting Lieutenant Colonel Benjamin Matthew David INGHAM, Royal Regiment of Artillery
Warrant Officer Class 1 Andrew Mark JAMES, Adjutant General's Corps (Staff and Personnel Support Branch)
Warrant Officer Class 1 Andrew George JOHNSON, Royal Corps of Signals
Warrant Officer Class 2 Benn LAIDLER, Army Air Corps
Major Brian David LAMONT, Corps of Royal Electrical and Mechanical Engineers
Major Andrew Mark LEWIS, Royal Army Medical Corps
Major Gerard LONG, The Princess of Walesís Royal Regiment Army Reserve
Colonel James Owen McCay LYTTLE TD, The Royal Irish Regiment Army Reserve
Major Norman MACKINNON, The Royal Regiment of Scotland
Acting Lieutenant Colonel Graham Alexander MARTIN, Adjutant General's Corps (Educational and Training Services Branch)
Major Guy John Nathaniel MASON, The Royal Logistic Corps
Warrant Officer Class 2 John McCLELLAND, Intelligence Corps Army Reserve
Acting Lieutenant Colonel Victoria Ellen McNEILL, Adjutant General's Corps (Royal Military Police)
Major Douglas Charles MUIRHEAD, The Parachute Regiment
Warrant Officer Class 2 Louise Victoria O'CONNELL, Adjutant General's Corps (Staff and Personnel Support Branch)
Acting Lieutenant Colonel Alan Francis O'FLANAGAN, Army Cadet Force
Major Colin Malcolm OLIVER, The Rifles
Lieutenant Colonel Melvin PEARS, Irish Guards
Major Karen PEEK, Royal Regiment of Artillery
Lieutenant Colonel Nicholas Mark PEEK, Royal Regiment of Artillery
Captain Euan Gordon PHILBIN, The Royal Regiment of Scotland
Acting Colonel Trevor Ernest RICHMOND, Army Cadet Force
Major David ROOK, Royal Corps of Signals
Captain William ROY, The Royal Irish Regiment
Lieutenant Colonel Ian SIMPSON, Royal Army Medical Corps Army Reserve
Acting Warrant Officer Class 1 Paul Benjamin SIMPSON, Corps of Royal Electrical and Mechanical Engineers
Major William STABLES, The Royal Logistic Corps
Captain Steven Andrew STEWART, The Royal Dragoon Guards
Major Hiroshi Thessalus THEODORAKAKIS, The Royal Logistic Corps
Sergeant Peter TRICKOVIC, The Royal Regiment of Scotland
Lieutenant Colonel John WEETMAN, Army Air Corps
Warrant Officer Class 2 Paul Julian WESTCOTT, Royal Corps of Signals
Captain Timothy Stephen WHITEWAY, Royal Regiment of Artillery
Captain Lee Duncan WILDEY, The Yorkshire Regiment
Queen's Volunteer Reserves Medal
Lieutenant Colonel Bibek BANERJEE, Royal Army Medical Corps Army Reserve
Lieutenant Colonel Dominique Sara CAIRNS TD, Royal Corps of Signals Army Reserve
Warrant Officer Class 2 Michael HANCOCK, The Mercian Regiment Army Reserve
Acting Brigadier Philip Rowland MIXER TD, late Royal Army Medial Corps Army Reserve
Warrant Officer Class 2 Richard Edward RUDDOM, The Royal Logistic Corps Army Reserve
Royal Air Force
Appointments to the Military Division of the Most Honourable Order of the Bath
As Knight Commander
Air Marshal Barry Mark NORTH OBE
As Companion
Air Vice-Marshal Stuart David ATHA DSO
Promotions in and Appointments to the Military Division of the Most Excellent Order of the British Empire
As Commander
Group Captain Gary Wayne BUNKELL QVRM ADC, Royal Auxiliary Air Force
Group Captain Stephen Franklyn LUSHINGTON
Air Commodore Carl Morrell SCOTT AFC
As Officers
Group Captain David Scott ARTHURTON
Wing Commander Anthony James BAKER
Group Captain David Lucien BRUCE MBE
Wing Commander Paul Andrew COLE
Group Captain Mark HUNT
Group Captain David Cyril MCLOUGHLIN
Group Captain John Clayton PRESCOTT
As Members
Flight Sergeant Vincent Roy BARTLETT
Senior Aircraftsman Adam John BRUERTON
Wing Commander Robin Anthony CAINE
Wing Commander Heather Ann CLARKE
Warrant Officer Sandra FLATT
Squadron Leader Gary Antony LANE, Royal Auxilliary Air Force
Warrant Officer John Joseph MORGAN
Flight Lieutenant Nigel Stephen PAINTER
Squadron Leader Andre PELCOT, Royal Air Force Reserve
Warrant Officer Philip Andrew RODD
Squadron Leader Thomas Leslie STEVENSON
Squadron Leader James Howard TURNER
Squadron Leader Colin WELSH
Queen's Volunteer Reserves Medal
Corporal Alan Michael HAYMAN, Royal Auxiliary Air Force
Civilians in Defence
Commanders of the Most Excellent Order of the British Empire (CBE)
Rodney Alan Rupert GREEN for voluntary service to the Order of St John and St John Ambulance
Alasdair Glen STIRLING for services to Defence
Officers of the Most Excellent Order of the British Empire (OBE)
Colonel Edward Paul Ronald CAUTLEY, CMG, DL for voluntary service to the Cadet Forces
Lt Colonel James Wilfrid CHURCH for services to veterans
Ian ELGY for services in support of military operations
Colonel Robin Dewhurst GIBSON for services to the Armed Forces
Dr John William SCADDING for services to Medical Research and Defence
Eric Roger SMITH for services to First Aid
Members of the Most Excellent Order of the British Empire (MBE)
Robert Thomas ALLAN for voluntary service to Service personnel & Veterans
Frederick Thomas BARRETT for services to the Army
James Edward BOWYER for services to Defence
Richard George Hugh BURLEND for services to Defence
Stephen DAVISON for services to Armed Forces personnel
Ms Tammie Elizabeth GRAHAM for services to Royal Marines personnel and families
Dennis Anthony HOLLAND for services to Aviation Safety
Mrs Karen-Marie HORN for services to the Armed Forces & Service families
Mrs Helen KNIGHTS for services in support of military operations
Brian Alan Leslie LARCOMBE for services to UK Hydrographic Office and to Industrial Relations
Melvin Kenneth LEE for services to the Armed Forces
Mrs Alma Joan MURRAY for voluntary service to Service personnel & Veterans
Mrs Fiona Marshall ROBINSON for services to the Army
Mrs Carol SCOTT for services in support of military operations
Michael James WHATTON for services to the Armed Forces
Mrs Dawn Elizabeth WIGGINS for services to Defence
The British Empire Medal (BEM)
Jack ANDOW for voluntary service to Royal Navy veterans
Mrs Lisa CROWLEY for services to Defence and the community, particularly to Young People
Mrs Elizabeth Ann Stuart GLENDINNING-SMITH for voluntary service to the Sea Cadet Corps
Mrs Maureen Sylvia LEWSEY for voluntary service to St John Ambulance
Michael David MOGRIDGE for voluntary service to SSAFA
Mrs Renee OUNSLEY for voluntary service to Royal Air Force veterans
Maurice James WARSOP for services to Defence and for charitable Service to the Royal British Legion
Published 30 December 2014