New website on all UK war memorials launched
One stop shop detailing history of all UK war memorials with advice on applying for funding.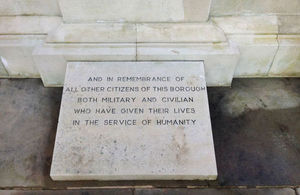 First World War Minister Helen Grant today visited the Grade II listed Watford Peace Memorial and announced an ambitious four-year programme to create ukwarmemorials.org, a one stop shop for information on all UK war memorials along with where to go for advice and funding.
The move means local people will once again be at the heart of protecting and conserving war memorials.
Funded by the Department for Culture, Media and Sport from the fines paid by banks that attempted to manipulate the LIBOR, the initiative draws resources together from across the UK.
The website will allow easy access to what specialist organisations know about war memorials and tap into expert advice on how best to look after them. This includes how to get grants for conservation and how to get memorials listed. It will expand in stages over the next four years so that by the end of the project ukwarmemorials.org will be easily searchable, helping people track down historical information, listed status, condition and inscribed names.
The website will eventually cover war memorials commemorating all modern conflicts up to and including Afghanistan.
Visiting Watford Peace Memorial, successfully restored by the local community with a grant of almost £5000 from the War Memorials Trust, Helen Grant said:
After the First World War, war memorials were erected across the country in a huge wave of remembrance. They were and remain records of our nation's sacrifice, our personal and collective memories carved in stone. Our part in this ongoing story is to learn, record, restore and protect them for the future.
Drawing attention to a series of new listings, from the Tintagel Cross War Memorial in Cornwall to the Alnmouth War Memorial in Northumberland, Helen Grant said:
I am delighted these monuments have been listed and protected. It is wonderful to see how deeply people care about their local history and want to preserve it.
Further information
A partnership between English Heritage, Civic Voice, Imperial War Museums and War Memorials Trust has been set up to help communities discover, care and conserve their Local First World War memorials. The partnership was formed following the DCMS pledge of £4.5m in July 2014 towards war memorials as part of the activities to commemorate the centenary of the First World War. Over the centenary programme the programme will deliver, funding to help local communities repair and conserve their war memorials, practical conservation training, hundreds of public workshops to encourage people to record and protect their local war memorials, and the listing of up to 500 memorials a year so their historical importance is recognised for years to come.
Find out more about the First World War Centenary.
Published 4 February 2015