News story
New ways to meet health challenges: apply for business contracts
The NHS is seeking business ideas to improve patient flow on acute wards and increase independence for children with long-term conditions.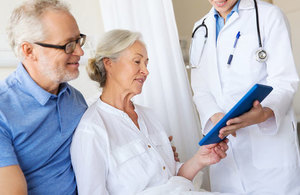 The NHS has up to £1.1 million to award to up to 12 projects that address challenges in healthcare identified by Academic Health Science Networks (AHSNs).
SBRI (Small Business Research Initiative) Healthcare, an NHS England initiative that aims to encourage innovative products and services to address unmet needs in the heath service, is seeking ideas that help to manage patient flow in acute care and that improve self-care and independence for children with long-term conditions.
Initial contracts will be worth up to £100,000, and the best ideas that come out of the studies could be awarded up to £1 million to develop the work further in a second phase.
Improving efficiency in acute care
Acute care takes up around half of NHS spend. Improved management of patients in and out of acute acre is seen as a significant opportunity to be more efficient.
Solutions could look at improved patient flow while a patient is receiving care, improved use of resources while the patient is in hospital and more efficient discharge.
Help children with long-term conditions
Innovative ideas are also being sought to help children with long-term health conditions be more independent.
These could be technologies that restore functions to limbs or help with limb functions.
They could also be technologies that improve self-care or allow for remote monitoring of a patient.
Competition information
the competition is open, and the deadline for applications is noon on 28 July 2016
the competition is for 100% funded contracts and is open to all organisations that can demonstrate a route to market for their solution
phase 1 contracts are expected to be worth up to £100,000 and to last up to six months
Published 30 June 2016