World news story
New visit visa application service launched in Bangladesh
As part of a global roll-out, a new visit visa application service has been launched in Bangladesh for customers visiting the UK.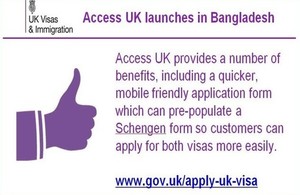 The new form will make it quicker and easier for customers to apply for their UK visa. Benefits include:
a shorter form with questions logically ordered based on customer feedback
more local languages, although customers will need to provide their answers in English
the application fee is displayed in the correct local currency
customers can apply, book their Visa Application Centre (VAC) appointment to give biometrics and pay for the relevant service standard seamlessly
the service is available on mobile devices
the form can pre-populate a Schengen Visa application form which customers can then download and print. This makes it much easier for customers applying for both visas at the same time.
Following the successful launch of Access UK in China in June 2014, UKVI is rolling it out globally to customers applying for a Standard Visitor Visa, Visitor (Marriage & Civil Partnership), or Visitor (Permitted Paid Engagement) Visa.
To make it more straightforward for customers, Access UK will soon be rolled out in Hindi, Tamil, Gujarati and Bengali, with a roll-out of more languages planned.
Access UK is available on the Apply UK visa website. However the Visa4UK website will continue to be available for visitors and for applicants applying visas on other routes.
Published 28 July 2016