World news story
New visa waiver scheme for Oman, Qatar ,the UAE and Kuwait
First ever UK electronic visa waiver scheme to launch for nationals of four Gulf countries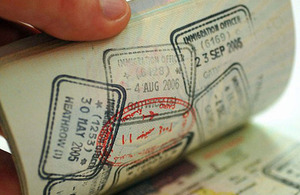 The Home Office will launch a new visa waiver scheme early next year to make it cheaper and easier for business travellers and tourists to come to the UK from Oman, Qatar, the United Arab Emirates and Kuwait.
The new electronic visa waiver (EVW) will be free of charge and is a quick and simple alternative to a visa application. Its introduction is expected to increase the number of visits from Emiratis, Qataris, Omanis and Kuwaitis and reflects the strong ties between the UK and these countries.
The Prime Minister announced the new scheme at the Lord Mayor of London's annual dinner, this evening. It is expected to launch in Oman, Qatar and UAE in early 2014 and similar arrangements will be extended to Kuwaiti passport holders later on in the year.
Applicants will need to submit an EVW online at least 48 hours before they are due to travel and it will do away with the need to provide biometric information, attend an appointment at a visa application centre or hand in passports prior to travel. The EVW will be available for visits of up to six months, however those coming to the UK to work or study will still need to apply for visas in the normal way.
The British Ambassador, Jamie Bowden, said: 'I am delighted that this new scheme, which we have been discussing with the Omani Foreign Ministry for some months, will make it so much easier for Omanis to travel to the United Kingdom. We look forward to welcoming even more visitors from the Sultanate in the country so many regard as their second home.'
Further details on the scheme will be announced in due course, until then current visa rules will apply and visitors can check the UKBA website for the latest information on the UK's visa service.
Notes to editors:
Further information is available at:

Visa applications from UAE, Oman and Qatar are growing year on year. The number of visas issued in 2012 is as follows:

UAE 30,148

Qatar 20,490

Oman 12,596

Kuwait 63,780

A record 530,000 visitors from the Gulf Cooperation Council (GCC) states came to Britain in 2012 (up six per cent on 2011). In 2012, the UK enjoyed a record year for tourism where £18.6 billion was injected into the economy from overseas visitors, of which £1.2 billion came from the GCC countries. Visitors from the GCC spend an average of $3,417 per person per visit which is significantly above the spend from other country nationals. (Source: VisitBritain)

The UK is the second most visited destination by residents of the UAE with the number of visits doubling in the last ten years. Leisure visits predominately take place in July to September. London in particular is a popular destination for tourists with shopping, entertainment and dining the main attractions.
Published 13 November 2013