New visa waiver scheme for Kuwait announced
First ever UK electronic visa waiver scheme to launch for nationals of four Gulf countries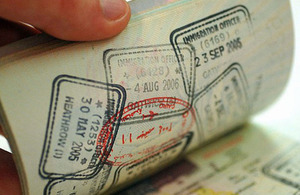 The Home Office will launch a new visa waiver scheme early next year to make it cheaper and easier for business travellers and tourists to come to the UK from Oman, Qatar, the United Arab Emirates and Kuwait.
The new electronic visa waiver (EVW) will be free of charge and is a quick and simple alternative to a visa application. Its introduction is expected to increase the number of visits from Emiratis, Qataris, Omanis and Kuwaitis and reflects the strong ties between the UK and these countries.
The Prime Minister announced the new scheme at the Lord Mayor of London's annual dinner. It is expected to launch in Oman, Qatar and UAE in early 2014 and similar arrangements will be extended to Kuwaiti passport holders later on in the year. Kuwaiti visitor numbers are significantly higher than Oman, Qatar and the UAE. Introducing EVW in those three Gulf States first will ensure the scheme works well before extending it to Kuwaiti passport holders.
Applicants will need to submit an EVW online at least 48 hours before they are due to travel and it will do away with the need to provide biometric information, attend an appointment at a visa application centre or hand in passports prior to travel. The EVW will be available for visits of up to six months, however those coming to the UK to work, study or receive healthcare will still need to apply for visas in the normal way.
Commenting on the move, British Ambassador to Kuwait, Mr Frank Baker, said:
We are delighted to be offering this new visa waiver scheme to our Kuwaiti friends. We have been working with colleagues in the Kuwaiti government on this for some time, and are very pleased that Kuwait is included in the scheme. It is absolutely befitting of the close and historic between our two countries.
Published 13 November 2013