World news story
New visa improvements will provide Chinese visitors with a quicker and easier service
The Immigration and Security Minister James Brokenshire announced new improvements to the visa system in China today (28July).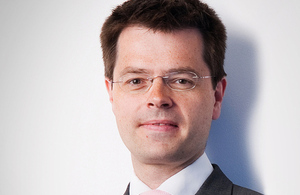 The Minister is currently in Beijing to promote the UK's visa service to key tourism and business partners.
The popular mobile biometric service, which allows customers to give their fingerprints and details to visa staff in offices, will be available at all 12 of the regions served by our visa application centres.
The service has already been successful in Shanghai and Beijing with customers' complimenting the service for being convenient and easy to use.
The Minister also announced that the 24 hour Super Priority Visa would be available to customers in Beijing, Shanghai and Guangzhou. The 24 hour service, only available for UK visas, will be open to customers applying for the majority of visit visa and work visa categories.
Immigration and Security Minister James Brokenshire said:
China is the UK's largest visa market and the number of business travellers and tourists we welcome continues to grow - demand for visitor visas increased by 40% in the last year alone.

We already offer an excellent visa service in China and through the 24 hour visa service and the expansion of mobile biometrics, business visitors will be able to apply for their visas more quickly and easily.

We want to make sure that we offer our Chinese customers a world class service and we will continue to make improvements so that our visa system is as efficient as possible, while at the same time protects British borders.
Other recent improvements we have made to the visa service include:
Upgrading our 12 visa application centres and offering out of working hours appointments;
Extending our three to five day priority service (used by over 7,000 people In June 2014 alone);
Introducing the passport pass-back service, allowing customers to apply for the UK and Schengen visa at the same time;
The launch of a new online application form, with fewer questions, translated guidance and giving the option of pre-populating a Schengen form at the same time;
Offering Premium service lounges in Beijing, Shanghai and Guangzhou visa application centres, reducing waiting times for applicants and offering personalised assistance at every stage;
Developing a dedicated team based in the British Embassy in Beijing which supports business, tourism and education sectors with their visa needs;
Reducing documentary requirements for the Chinese government-endorsed Approved Destination Scheme (ADS) for Chinese tour groups and repeat travellers;
Published 28 July 2014