New Victims' Commissioner unveiled
Baroness Helen Newlove has been appointed as the new Victims' Commissioner.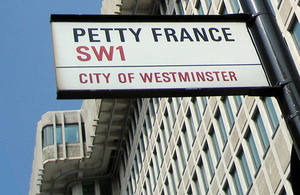 Baroness Helen Newlove has been appointed as the new Victims' Commissioner, a role to ensure victims' and witnesses' voices are brought to the heart of Government.
Baroness Newlove has campaigned tirelessly for victims since the tragic death of her husband Garry in 2007. In her role as the Government's Champion for Active Safer Communities she has also worked with local people to make communities safer and to find solutions for local problems.
Baroness Newlove's role, which is an independent appointment through an open recruitment exercise, will last for three years and include:
Engaging with victims and witnesses groups, local and national leaders and criminal justice agencies
Advising the Government on views from victims and witnesses on existing good practice in the CJS and areas for future work
Contributing to the Government's revision of the Victims Code.
Victims' Minister Helen Grant said:
'I am greatly looking forward to working with Helen to make sure we better support victims traumatised by crime. We have already undertaken an ambitious package of reform to the way support services are provided so they will be more responsive to individual communities' needs.
'We are also making criminals pay much more towards victims' services and take more responsibility for their crimes. I know that victims and witnesses need more help navigating what can be a confusing and sometimes intimidating criminal justice system. That's why I am revising the Victims' Code to better respond to their needs and Helen will play an invaluable part in this.'
Baroness Helen Newlove added:
'I am extremely honoured to be appointed as the Victims' Commissioner and I promise that I will continue to ensure the victims voice is heard at the heart of the Criminal Justice System and Government.
'As Victims' Commissioner I will support changes in the Criminal Justice System that meet the needs of the victim and their families. Where it does not I will challenge with equal determination. From experience I know in my heart the pain that is felt by victims of crime and their loved ones and this alone will drive me to be the best Victims' Commissioner I can be.'
For more information and Baroness Newlove's biography please view the press release.
Published 21 December 2012