Press release
New universities to deliver choice and opportunity for students
More young people will have the opportunity to access a high-quality university education as part of new plans announced today.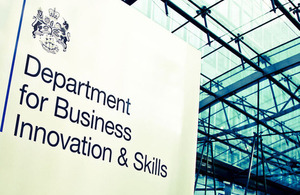 new plans will make it easier to set-up high-quality new universities to give students more choice
rigorous drive to raise teaching quality and ensure universities focus on getting students into graduate jobs
plans deliver on key manifesto commitments to ensure universities deliver the best value for money for students and recognise the highest quality teaching
More young people will have the opportunity to access a high-quality university education and secure a graduate job as part of new plans announced today (16 May 2016).
The government will press ahead with proposals to make it easier for 'challenger institutions' to award their own degrees, and the plans will also give students more information about teaching standards and job prospects to help them make better informed decisions about what and where to study.
The measures follow the government's steps last year to end student number controls, which has enabled record numbers of students to aspire to higher education and secure a university place.
In a move that delivers on several key manifesto commitments, the plans will also ensure students get better value for money, with a new Teaching Excellence Framework (TEF) that will encourage universities to raise standards and focus on helping students from all backgrounds into employment or further study.
The white paper, Success as a Knowledge Economy, is published today and follows a consultation launched in November 2015.
With over half of job vacancies between now and 2022 expected to be in occupations that require high-level graduate skills and knowledge, the plans will ensure there are university places available to meet the demand for a more highly skilled workforce into the next decade.
Universities and Science Minister Jo Johnson said:
Our universities are engines of economic growth and social mobility, but if we are to remain competitive and ensure that a high-quality education remains open to all, we cannot stand still. Making it easier for high-quality challenger institutions to start offering their own degrees will help drive up teaching quality, boost the economy and extend aspiration and life chances for students from all backgrounds.

By creating the Office for Students, we will put student choice, teaching quality and social mobility at the top of the agenda in higher education. With UK Research and Innovation we're creating a strong voice for our world-class knowledge base and ensuring the UK is ready to lead the world in multi-disciplinary research where some of the most exciting breakthroughs are taking place.
The reforms
The reforms outlined in the white paper today include:
New, high-quality universities to raise standards and give students more choice
New rules will make it easier for the very best institutions to achieve their own degree awarding powers, and streamline the process so that they can get up and running as quickly as possible.
The plans are aimed at giving students more choice over the type of education they receive by allowing more innovative and flexible institutions to enter the market.
It could benefit institutions such as Hereford's proposed New Model in Technology and Engineering and could have benefited University Campus Suffolk, which has now been given the green light from the government to apply for University Title, 9 years after admitting its first higher education student.
There would be rigorous tests for institutions who want to enter the system, ensuring that only the highest quality pass the bar. They would also be subject to on-going monitoring and, if there are any signs that quality is falling, the Office for Students will be able to take swift, effective regulatory action.
Call for evidence launched on switching course or university
In another move to give students more choice, the government is also today announcing a call for evidence looking at whether students should be able to switch university courses more easily, if they are unhappy with the provision they are receiving or their circumstances change.
Teaching excellence
We want to see quality of teaching placed on a par with our country's world leading research so that we not only get more students into university – we ensure it's worthwhile when they get there.
The white paper confirms plans to deliver the Teaching Excellence Framework promised in the manifesto. It will assess different aspects of teaching, including student experience and the job prospects of graduates. The 'TEF' will give students more information about the teaching they will receive before they apply to university and reward universities that up their game and deliver high-quality teaching for every single student.
Institutions which meet the high standards set by the TEF will be able to raise their fees in line with inflation, to help incentivise high quality teaching standards and protect financial sustainability of the sector. The TEF structure will be introduced over the next 4 years, with the first of those institutions able to raise their fees in line with annual inflation in autumn 2017.
This will, for the first time, link the funding of university teaching to quality, and not simply quantity of students (a principle long established for funding research); and encourage universities to focus on helping their students into employment.
A transparency revolution
Despite record numbers entering university, students from the most advantaged backgrounds are still around 6 times more likely to go to the most selective universities than those from disadvantaged backgrounds. The government will be taking action to address this – by requiring all universities to publish detailed information about application, offer and progression rates, broken down by ethnicity, gender and socio-economic background. This will shine a spotlight on universities that need to go further and faster on social mobility and spur further action to ensure all institutions reach out to reach out to disadvantaged groups.
Cementing the UK's place as a world leader in research and innovation
The UK is a world leader in science and innovation, and the government has protected the research budget to the end of the Parliament. Today's white paper sets out plans to maintain and build on this reputation, and ensure we maximise the government's £6 billion annual investment in research and innovation.
We will be delivering on Sir Paul Nurse's recommendations to establish a single, strategic funding body that enables the UK to lead the world in multi-disciplinary research and innovation. The body - UK Research & Innovation, will bring together the 7 Research Councils, Innovate UK and HEFCE's research and knowledge exchange functions, to make it easier to undertake collaborative research and address global issues such as climate change and disease. The plans will ensure that each Research Council and Innovate UK retain their identities and delegated budgets.
Notes to editors:
University Campus Suffolk took in its first intake of HE students in 2007, with student numbers rising from circa 3,000 to around 5,000 today. This could be the first university in Suffolk.

Institutions which meet the high standards set by TEF will be able to raise their fees in line with inflation, to help incentivise high quality teaching standards and protect financial sustainability of the sector.

The full TEF structure will be introduced over the next 4 years, but the government will allow institutions which meet level 1 of TEF (those who have a recent successful quality assurance review) to raise their fees in line with annual inflation in autumn 2017.

Two eminent British academics, Sir William Wakeham and Sir Nigel Shadbolt have today published their recommendations to better understand and improve the job prospects of graduates in science, technology, engineering and maths (STEM) degrees and ensure the UK workforce can meet the long-term needs of the economy.
Stakeholder comment
Lord (Peter) Mandelson, former Labour Business Secretary and Chancellor, Manchester Metropolitan University:
I welcome this focus on the range of universities we have in Britain as they are essential for social mobility and economic success. It is right to stress transparency to students as it is their learning and research experience by which universities should be judged.
Alex Neill, Director of Policy and Campaigns at Which?, said:
Our research has shown that students struggle to obtain the information they need to make informed decisions about university choices. We welcome measures to give students more insight into student experience, teaching standards and value for money.

These proposals could not only drive up standards, but could also empower students ahead of one of the biggest financial decisions of their lives.
Martin Doel, Chief Executive of the Association of Colleges (AoC) said:
Choice, access and quality are the welcome watchwords of the government's long-awaited plans to open up higher education and to allow more colleges to award HE qualifications.

This step change away from the country's traditional university system will empower more people than ever before to access HE in their local area through a college. It will also provide a wider choice of courses that are linked to employment.

Students, colleges and employers will welcome these plans, which mean more opportunities for people to access the most suitable and best value higher education courses. This is a particular benefit for those who are employed and want to study part-time.

We will be interested to see how the recommendations relate to findings of the review into technical and professional education carried out by a panel led by Lord David Sainsbury.
University Alliance Chief Executive Maddalaine Ansell said:
The right regime for higher education and research is essential for building the knowledge economy of the future. These plans strike a healthy balance between protecting the quality and global reputation of our country's universities, whilst also encouraging innovation.

Implementing the Teaching Excellence Framework in a steady way over time is the best way to ensure it is flexible enough to recognise the strength and diversity of the higher education sector.

The government is right to emphasise supporting social mobility and progression, encouraging universities to focus on getting students into employment and increasing transparency for potential students.

The decision to protect the dual support funding system for research in legislation is very welcome as is the recognition of the importance of innovation in the new institutional architecture.
Douglas Blackstock, Chief Executive of the Quality Assurance Agency for Higher Education (QAA) says:
The government has struck a balance between encouraging competition and rigorous protection of UK higher education's world class reputation, including independent quality assurance and the requirement of new providers to meet the expectations of the UK Quality Code.

QAA supports measures to protect student interests and the new flexible routes to achieve degree awarding powers at Bachelors and subject level, which will allow new providers to develop their capacity over time.
Dame Julia Goodfellow, President of Universities UK and Vice-Chancellor of the University of Kent, said:
We support the government's aim to protect the interests of students, increase fairness and demonstrate the value of a university education.

The university sector is an international success story in terms of the quality of teaching and research. It is important that any reforms recognise this and build on that strength.

Established universities are not standing still and are always seeking to improve what they offer to students. Providing a high-quality, world-leading experience for all students is central to what our universities do.

It is important also that any new higher education providers awarding their own degrees or calling themselves 'university' meet these same, high standards.

We are pleased that government has listened to the views of universities on their plans for a Teaching Excellence Framework. Universities will work with the government to see how this can best add value to all students, whatever their choice of subject or university.

The focus on improving access to higher education is to be welcomed. Universities have made considerable progress in recent years to increase the numbers of students from disadvantaged backgrounds going to university. This is ongoing work, and we recognise there is still more to do.
Tim Melville-Ross, Chair of Higher Education Funding Council for England said:
The higher education white paper heralds a significant reshaping of the higher education landscape which has students at its heart.

HEFCE welcomes the government's commitment to a diverse and world-leading higher education system which offers students choice and value for their investment in education.

We also welcome the government's continuing commitment to dual support. UK higher education research is internationally recognised, and produces ground-breaking work for the benefit of the economy and society. HEFCE will continue to contribute our experience and expertise wherever it is needed.

Higher education changes lives, and makes a vital contribution to social mobility and economic growth. HEFCE will collaborate with government, students, the sector and others to ensure a smooth transition as the reforms are implemented, subject to Parliamentary approval.

We welcome the government's commission to HEFCE to deliver the 2017 TEF exercise, and we will work closely with providers and students during the period of the technical consultation to establish a robust and inclusive process. We also look forward to working with the Department for Business, Innovation and Skills on the development of TEF beyond 2017.
Pam Tatlow, Chief Executive of MillionPlus, the Association of Modern Universities said:
MillionPlus believes that universities should be research active, operate for the public good and in the interests of students and we welcome the government's interest in teaching excellence.

The government's reforms will have UK-wide implications and we look forward to working constructively with ministers to ensure that these plans maintain and enhance a high quality university system which supports anyone who has the ambition, talent and desire to succeed.
Aldwyn Cooper, Vice Chancellor of Regent's University London and Chair of the Independent Universities Group:
The central objectives identified for implementation in the white paper are very positive. The focus on quality to be the key determinant for acquisition of university title, student experience, graduate employment and innovation are of crucial importance to the UK's continuing gold standard position in world Higher Education.
Mary Curnock Cook, UCAS' Chief Executive said:
We welcome these measures which will help ensure students can be confident about courses that offer a high quality education, will challenge them intellectually, and equip them to succeed in the graduate employment market.

Transparency about access should mean that all applicants can be sure that they will be treated fairly in the admissions process, regardless of their ethnic or social background. To help meet the new transparency duty UCAS will be publishing the first transparency reports for universities.
CBI Deputy Director-General Josh Hardie, said:
Our world-class universities are great British success story, so it's good that the white paper proposals have taken on board the business view – building on and expanding the diversity of our higher education provision, which already is a brilliant asset.

Skills shortages across our economy show we need to take action. It's right to focus on high-quality university teaching, as well as giving students and employers greater transparency. Where new universities develop, it will be vital that students from all backgrounds know their degrees will be rigorous and help them build a great career – as with existing institutions. Piloting new approaches carefully, to ensure the right results, will be an important part of this.

Businesses had raised concerns about the future of InnovateUK funding, which supports innovation partnerships. It's good to see that the government has taken steps to maintain this funding alongside, but separate from, the funding distributed by the Research Councils.
Les Ebdon, Director of Fair Access to Higher Education, said:
I welcome the increased emphasis on fair access to higher education in this important white paper. Making sure that talented people from disadvantaged backgrounds are able to access – and succeed – in higher education is key to increased social mobility.

There are greater rates of young people from disadvantaged backgrounds in higher education than ever before. I believe that an independent Director of Fair Access, with the profile, authority and tools to challenge universities, is crucial to accelerating future progress. I am pleased that ministers recognise the importance of this independent role within the new Office for Students, and look forward to working with them, and the whole sector, as we work towards the Prime Minister's fair access goals.
Published 16 May 2016