World news story
New UK Visa Application Centre for residents of Jamaica opens in Kingston
A new UK Visa Application Centre (VAC) service will open in Kingston on 6th March for applicants wishing to travel to the UK.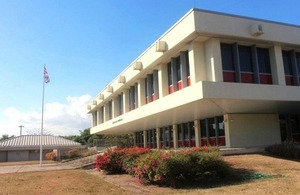 UKVI and VFS Global are pleased to announce the opening of the UK VAC in Kingston, operated by VFS Global's regional partner, the International Organization for Migration (IOM) on 6 March 2013. The last day for submission of visa applications at the British High Commission in Kingston will be 4 March 2014. While visa fees remain the same, optional additional services provided at the VAC will be available subject to an additional service fee, which can be paid online.
The UK VAC will provide exclusive services for the Government of the UK, and is authorised to accept applications in all categories. The VAC will also have facilities for interviewing. All applicants making a Tier 4 (General) application should expect to be interviewed when they attend their appointment at the visa application centre. For appointments in any category, applicants are required to book online on our website.
The decision to issue or refuse a visa is made solely by officers of the Home Office - UK Visas & Immigration, in accordance with UK's immigration visa rules and guidelines. The UK VAC has no role or influence over the outcome of an application and will not offer any evaluative advice. With the new facility offered by VFS Global & IOM in Kingston, applicants can benefit from a host of facilities and additional services such as:
Conveniently located and easily accessible visa application centre
Longer operating hours allowing applicants to visit at a time of their convenience
Convenient and spacious waiting areas with modern facilities
Professional and responsive staff dedicated to handle visa queries and applications
Dedicated website for easy access to information including visa types, requirements, applicable fees and application status
Online appointment based application submission, eliminating wait time at the VAC
Premium Lounge service available offering an enhanced application experience
Secure handling of passports, documents and personal information
Additional services available, including direct – to – home delivery of passport
For more information, please visit VFS
UK Visa Application Centre Details
Contact Details
Address:
IOM,The Towers, 25 Dominica Drive, 10th Floor, Kingston 5, Jamaica
Submission Timings:09:00Hrs. to 16:00HrsMonday - Friday (except declared holidays)
Passport Collection:14:00Hrs to 16:00Hrs Monday - Friday (except declared holidays)
The UK Visa Application Centre will be responsible only for accepting applications and relevant travel documents. All applications will be assessed and processed by the British High Commission in Kingston. Timelines for turnaround of visas are as per the discretion of the authorities.
For press enquiries:
Please contact:
The Press Office of the British High Commission at PPP.Kingston@fco.gov.uk or Tel: 936–0700
All our news is available on our website
And on our Facebook
Published 28 February 2014