New UK help for victims of Pakistan floods
The UK Development Secretary, Andrew Mitchell, has announced that the UK is sending 2,000 all-weather tents to flood-affected districts in Pakistan.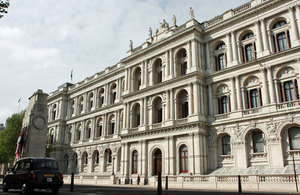 Speaking about this further assistance, Andrew Mitchell said:
"Thousands of people who have had their homes destroyed by the floods are in desperate need of all-weather tents. With more rains expected over the next few days, we must get aid to them as quickly as possible.
At the same time, our fast response funding will help get more disaster experts to flooded districts as quickly as possible to kick-start vital life-saving work."
The tents, which will be distributed by Save the Children, will provide all-weather shelter for families who have lost their homes. The tents could shelter up to 10,000 people.
This UK support is in addition to the support being provided to the Government of Pakistan's response effort to provide safe drinking water, hygiene kits, toilets, sewage clearance and waste removal. The UK is also funding assistance through the UN led Pakistan Emergency Response Fund. The UK was the first country to contribute to this new emergency fund.
British charities today launched a radio and TV campaign to raise funds for flood victims. The appeal is being organised through DEC (The Disasters Emergency Committee), the umbrella organisation representing charities responding to overseas crises.
Heavy rain in areas of Pakistan over recent days has caused widespread flooding, particularly in Khyber-Pakhtunkhwa and Baluchistan. Britons should take into account the latest information before considering travel to areas that may be affected.
The British High Commission in Islamabad is liaising with local authorities to get updates on the situation and is relaying information to those British Nationals it is in touch with.
British nationals travelling overseas are encouraged to use our new LOCATE service to tell us where they are travelling to so our Embassy and crisis staff can provide better assistance in an emergency.
All Britons travelling to Pakistan should consult the Foreign Office travel advice for Pakistan before travelling.
Published 5 August 2010