New UEA-Government research centre
New UEA-Government research centre to strengthen UK marine science capacity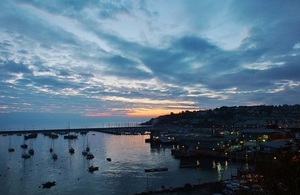 A new marine science centre launches today in Norwich aiming to provide solutions to some of the biggest challenges facing the world's seas and society, from climate change, to energy and food security. The Collaborative Centre for Sustainable Use of the Seas (CCSUS) brings together over 40 scientists from the University of East Anglia (UEA) and the Centre for Environment, Fisheries and Aquaculture Science (Cefas). They will combine leading-edge marine science with practical expertise and the latest technological know-how to ensure that our seas and oceans are used sustainably for the benefit of people in the UK and world-wide. Scientists based at Cefas, Lowestoft, and UEA will collaborate with policy makers, advisers and industry to support UK and international marine policy in a range of areas including marine fisheries, energy and conservation.
Projects are expected to search for real-world solutions to big issues, such as responding to the impacts of marine climate change on wildlife and fisheries or of extreme events on coasts and coastal communities, managing the extraction of aggregates from the seabed while protecting marine habitats and understanding how ocean circulation changes the risks of oil spills. Speaking at the launch of the Centre, Fisheries Minister George Eustice said:
The UK is already a world-leader in marine science and this new centre will bring together experts and the latest technology to help keep us at the forefront of innovation.

By collaborating and making sure policy decisions are based on sound scientific evidence, we will be able to create and maintain a healthy marine environment for years to come.
UEA Vice Chancellor David Richardson said:
The launch of CCSUS builds on the engagement and goodwill that has characterised 50 years of existing interaction between UEA and Cefas. Through this exciting new enterprise, we will combine our strength and expertise in the marine environment, climate science, provision of policy advice and scientific excellence. The Centre heralds a new era of partnership between Cefas, UEA and the wider Norwich Research Park.
Cefas Chief Scientist Stuart Rogers said:
CCSUS seeks to deliver a step change in scientific collaboration, by providing practical solutions to pressing challenges for marine systems and society. It aims to combine the very best of UEA marine research with Cefas applied science and monitoring capability. By working together, UEA and Cefas will increase our science impact, win new income to develop innovative research opportunities, and build our reputation for excellent science and career opportunities.
Notes
CCSUS is based in the School of Environmental Sciences at UEA and will provide a forum to bring together expertise from across UEA and Norwich Research Park.
The vision for CCSUS is to combine innovative science and practical expertise to achieve sustainable use of the seas.
The work of the Centre is structured in six complementary themes: * Climate change impacts and adaptation * Marine technology, monitoring and risk * Energy and food security * Life in the seas * Ecosystem and coastal process * Marine systems and society
The Centre is hosted by the School of Environmental Sciences at UEA and provides a forum to bring together expertise from the School of Environmental Sciences as well as the Schools of Economics, Biological Sciences, Chemistry, Maths, Pharmacy, International Development and Computing Science as well as the Sainsbury Laboratory, John Innes Institute and Institute of Food Research on the Norwich Research Park. By coordinating with other UEA Centres including the Centre for Ocean and Atmospheric Sciences, Centre for Ecology, Evolution and Conservation, Climate Research Unit, the Tyndall Centre for Climate Change Research and the Centre for the Social and Economic Research on the Global Environment, CCSUS supports new collaborations on marine systems and their sustainability and complements existing UEA research. For more information visit www.ccsus.org.uk and follow @Twitter @ccsusea
About the Centre for Environment, Fisheries and Aquaculture Science (Cefas) The Centre for Environment, Fisheries and Aquaculture Science (Cefas) provides world class marine and freshwater science. Cefas is an Executive Agency of Defra and the UK's most diverse centre for applied marine and freshwater science and research, covering an unrivalled breadth of specialist areas to provide a fully integrated, multi-disciplinary approach. Our customer base is diverse, including the UK government and UK Overseas Territories, international governments, public and private sector organisations. For more information about Cefas and follow @CefasGovUK For further information contact: Helen.egar@cefas.co.uk
About the University of East Anglia The University of East Anglia (UEA) is among the top 1% of universities globally (Times Higher Education World Rankings 2015-16) and placed 10th in the UK for the quality of its research output (Research Excellence Framework 2014). Also known for its outstanding student experience, it has achieved a Top 10 rating in the National Student Survey every year since the survey began. UEA is a leading member of the Norwich Research Park - one of Europe's largest concentrations of researchers in the fields of environment, health and plant science. UEA
Published 5 July 2016