An advertising campaign about police and crime commissioners and the upcoming elections on 15 November is underway.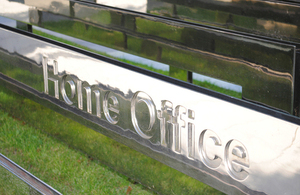 Monday, 08 Oct 2012
The multi media campaign will feature on TV and radio. Adverts will also appear in newspapers and at bus stops up and down the country.
A Home Office spokesperson said:
'The arrival of police and crime commissioners will mark the most significant democratic reform of policing in our lifetime. The public will finally have a seat at the table when key decisions are made about crime and policing in their area.
'The advertising campaign launched today will ensure everyone knows that on 15 November they can have a say on one of the most important public services of all.'
Choose my PCC
The adverts will direct the public to a new website www.choosemypcc.org.uk where, from the 26 October, they will be able to search and find out about which candidates are standing for election in their police force area. In the meantime visitors to the site will be encouraged to register for an email alert.
The public will also be able to order a printed booklet which will tell them who their candidates are. Pre orders can be taken by calling 0800 1 070708.
Visit the police and crime commissioners section of the website for more information.
Vote for your local police and crime commissioner
Watch the video to find out more about how this election could be important for you.

Published 8 October 2012