Press release
New 'tech levels' to raise the quality of vocational qualifications
Skills Minister Matthew Hancock announces technical level qualifications and applied general qualifications.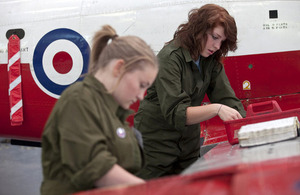 Employers and trade associations will be asked to endorse the best occupational qualifications - to be known as 'tech levels' - so young people know which courses have the best job prospects.
Skills Minister Matthew Hancock said it was essential that 16- to 19-year-olds were given clear information about the qualifications which help them get on in life.
Universities, meanwhile, will be asked by exam boards to back the best 'applied general qualifications'.
Only those level 3, or advanced, qualifications which have the support of businesses or universities will be included in new-look 16 to 19 performance tables from 2016, for young people taking courses from September 2014.
Mr Hancock said the aspirational reforms would not only strengthen vocational education but also boost the economy by giving young people the skills to fill much-needed shortages in key occupations. This will help Britain win the global race.
The move is announced as part of the government's response to its consultation on the vocational qualifications which will continue to count in performance tables for colleges and school sixth-forms.
The changes follow similar action to overhaul school league tables for 14- to 16-year-olds.
Exam boards will need to demonstrate their qualifications' quality by getting sign-up from trusted employers or higher education institutions:
Vocational qualifications which lead to recognised occupations (in engineering, IT, accounting or hospitality, for example) will need public support from professional bodies, or 5 employers registered with Companies House, to be included in performance tables. These 5 must represent the breadth of the relevant sector. These qualifications will be known as tech levels.
Vocational qualifications not directly linked to an occupation but providing broader study of a vocational area will need the explicit backing of 3 universities. These will be known as applied general qualifications.
Skills Minister Matthew Hancock said:
Tech levels will recognise rigorous and responsive technical education. High-quality rigorous vocational education is essential to future prosperity, and the life chances of millions. Because technical education is so important, it is vital the qualifications young people take are stretching, high-quality and support their aspirations. These reforms are unashamedly aspirational and will ensure tech levels help people into apprenticeships and jobs.

So for the first time we will ensure that exam boards list the employers or universities which support their courses. Only these stretching, strong courses will count in league tables.
The government also confirmed today that to count in the 2016 tables, both tech level and applied general qualifications will need to be able to demonstrate what they lead to - be it a job, apprenticeship, or further study, such as university - and be of sufficient size. Applied general qualifications need to be at least the equivalent size of an AS level. Tech levels need to be at least the size of an A level.
All qualifications will need to meet further quality requirements to be counted in the performance tables from 2018 onwards (for first teaching in September 2016). These include:
external assessment
a grading system
good take-up
a record of getting students into work or university
Tech levels will also need to involve local employers either through work experience or by helping to design courses or assess students. Tech levels will count towards the TechBacc measure, which recognises the very highest achievements of students taking vocational courses.
Tech levels and applied general qualifications will be reported separately in performance tables to academic qualifications, including A levels and AS levels, the International Baccalaureate and the Pre-U. This will mean parents, students and the public in general can judge for themselves how schools and colleges are performing.
The changes will mean that at least 80% of the 5,000 vocational qualifications currently approved for teaching to those aged 16 to 19 will be removed from the tables. However, young people will still be able to take any qualification accredited for use by Ofqual, as some of these small courses are beneficial if taken alongside a larger, high-quality qualification and help young people towards getting a job or university place. The list of qualifications that will count in the 2016 performance tables will be published by the end of the year.
The move follows Professor Alison Wolf's ground-breaking report into vocational education, in which she said that "at least 350,000 young people in a given 16 to 19 cohort are poorly served by current arrangements. Their programmes and experiences fail to promote progression into either stable, paid employment or higher level education and training in a consistent or an effective way."
There has also been an explosion in the number of young people studying vocational qualifications between the ages of 16 and 19:
The proportion of 16- to 19-year-olds studying at level 3 taking at least 1 of the post-16 level 3 vocational courses available rose from 30% in 2008 to 48% in 2012 - from 101,000 students to around 185,000.
The number of young people aged 16 to 19 studying vocational courses rose 196% between 1995 and 2010. In comparison, the number of those studying A levels in the same period rose 21%.
Notes to editors
The government response to the consultation to reform Level 3 vocational qualifications for 16 to 19 year olds is available on the department's e-consultations website.
The technical guidance for awarding organisations setting out requirements for inclusion in the 'Wolf list' of level 3 vocational qualifications taught from 2014 and reported in the 2016 performance tables is available in the publications section of GOV.UK.
DfE enquiries
Central newsdesk 020 7783 8300
General enquiries 0370 000 2288
Published 4 July 2013