Press release
New tax rules help farmers
The government is providing further support to farmers by increasing the period in which they can average out their taxable profits.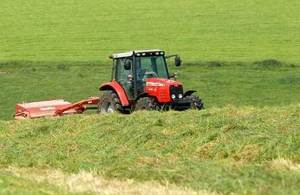 More than 29,000 farmers are set to benefit from a new streamlined approach to paying their taxes as set out by the Chancellor in last week's Budget (18 March 2015).
For the first time farmers will be able to average out the tax they pay on their profits from two to five years, helping them better manage potential fluctuations in income caused by a range of factors from global markets to weather.
Welcoming the change, Environment Secretary Elizabeth Truss said:
Our £100 billion food and farming industry has a key role to play in the UK's economic recovery. That's why we highlighted the need to support farm resilience and productivity when we recently launched our long-term economic plan for food and farming.

This announcement will let farmers plan for the future and invest to improve their competitiveness. It will be particularly helpful for our world-leading dairy industry, which has been hard-hit by recent falls in the global milk price but has strong long-term prospects.
It is estimated that this could benefit over 29,000 farmers who could gain around £950 per year. A consultation into the detailed design and implementation of the policy will be launched later in the year.
The measure will come into effect from April 2016 and will be legislated for in a future Finance Bill.
Published 24 March 2015