Press release
New support to help 7,000 businesses export online
Seven thousand UK small and medium sized enterprises to benefit from a new programme to help them attract overseas customers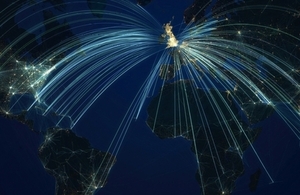 Seven thousand UK small and medium sized enterprises (SMEs) will benefit from a new programme to help them attract overseas customers through the internet, Business Secretary Vince Cable will announce today (16 October 2013).
Vince Cable will also announce that for the first time, the UK will have an approved global network of business-to-business support to rival the world's best. By the end of 2014 UK SMEs will benefit from 40 approved support networks in UK Trade & Investment's (UKTI) top high growth markets including China, India and the UAE.
The UKTI 'Grow Online, Expand Worldwide' campaign will deliver training and advice to SMEs and provide funding to help improve their web capability over the next 2 years. Business Secretary Vince Cable will announce the campaign in a speech today at a UKTI exporting conference. He will say:
Britain's 220,000 online retailers export more than the rest of Europe's e-retailers combined but other countries are catching up fast. UK companies need to stay ahead of the game and capitalise on the rapid growth of mobile technology and social media to find new international customers.

Supporting more small and medium sized businesses to export is a crucial part of the government's plan to rebalance our economy, create jobs and boost prosperity. Britain has moved back up into 5th place in the IMF's worldwide ranking of exports of goods and services. UKTI's 'Grow Online, Expand Worldwide' campaign will help even more businesses to tap into the global appetite for British goods and services.
Helen Dickinson, British Retail Consortium Director General, said:
British retailers, large and small, are in a strong position to seize the opportunity the web based revolution has brought. Even the smallest retailers have a massive opportunity to expand their businesses through exporting to new markets. It's new programmes like 'Grow Online, Expand Worldwide', and support from the BRC and UKTI, that will help them achieve this.
UKTI's 'Grow Online, Expand Worldwide' campaign includes local support for:
4,000 aspiring web exporters through awareness raising sessions, a webinar campaign and international web workshops
1,200 web export ready businesses through e-commerce masterclasses
1,500 web exporters with bespoke one-to-one advice from experts
600 companies from the UK retail sector to sell online by helping them to list their products on the world's leading online sales sites including Alibaba in China and Tejuri in the Gulf
The government wants to make the UK the best place to start and grow a business. In the autumn it will launch a public campaign to celebrate GREAT British business success stories. The government wants to inspire other small businesses and point them towards the support that can help them grow. It will also launch a new strategy for how the whole of government will back them. This will set out a range of measures to continue helping budding entrepreneurs and existing businesses succeed.
Notes to editors:
1.If you are a business interested in the 'Grow Online, Expand Worldwide' campaign, please call 020 7034 4848 and speak to a member of the Click:Connect:Sell team.
2.During October 2013, the government is launching, or working with its partners on, several initiatives to help small businesses and individual members of the public make the most of the internet and digital technologies. These will ensure that the infrastructure is there to enable people to get online, that small businesses are given practical help to operate more effectively online and that disadvantaged adults are helped to access to the internet and the skills to get the most from these technologies.
3.Sixteen million people in the UK aged 15 and over still don't have basic online skills, although 90% of all jobs will require ICT skills by 2015.
4.Just 33% of small to medium-sized companies have a digital presence and only 14% sell their products online. But research suggests that if UK SMEs fully adopted online technologies, they could increase annual turnover by £18.8 billion. Here in the UK we're twice as likely as the OECD average to buy goods online.
5.The potential of online and digital technologies is huge and is growing by the day.
6.The government is working with partners to ensure that the country, businesses, communities and individuals reap the full benefits of online and digital technologies, and do so securely.
7.Infrastructure connects the country, helping businesses expand. It gives us a competitive advantage, underpinning economic growth and high quality jobs.
8.The government is making a £1 billion investment in extending broadband infrastructure to 95% of the UK.
9.Individuals need digital skills to be able to take advantage of the opportunities that broadband provides so that they can get high-quality jobs and improve their quality of life.
10.In the 2012 Autumn Statement, UKTI was awarded an additional £70 million for each of 2013/14 and 2014/15, enabling the recruitment of more international trade advisers around the country, expansion of existing services including the Trade Access Programme (TAP) and the Overseas Market Introduction Service (OMIS), and support to expand the range of assistance available to UK companies through overseas British chambers of commerce.
11.The government's economic policy objective is to achieve 'strong, sustainable and balanced growth that is more evenly shared across the country and between industries'. It set 4 ambitions in the 'Plan for Growth', published at Budget 2011: * to create the most competitive tax system in the G20 * to make the UK the best place in Europe to start, finance and grow a business * to encourage investment and exports as a route to a more balanced economy * to create a more educated workforce that is the most flexible in Europe Work is underway across government to achieve these ambitions, including progress on more than 250 measures as part of the Growth Review. Developing an Industrial Strategy gives new impetus to this work by providing businesses, investors and the public with more clarity about the long-term direction in which the government wants the economy to travel.
12.UK Trade & Investment (UKTI) is the government department that helps UK-based companies succeed in the global economy. We also help overseas companies bring their high quality investment to the UK's economy – acknowledged as Europe's best place from which to succeed in global business. UKTI offers expertise and contacts through its extensive network of specialists in the UK, and in British embassies and other diplomatic offices around the world. We provide companies with the tools they require to be competitive on the world stage. For more information on UKTI, visit www.ukti.gov.uk or visit the online newsroom at www.ukti.gov.uk/media.
13.The GREAT Britain campaign is the government's most ambitious international marketing campaign ever and showcases the very best of what Britain has to offer in order to encourage the world to visit, study and do business with the UK.
Published 16 October 2013