New support for witnesses of serious violence and murder
Justice Secretary announces extra support to those who witness homicide and serious violence.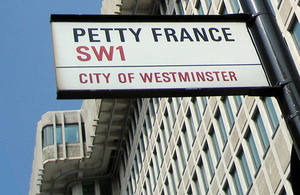 new programme to help children in custody who are also victims of violent crime
part of the Prime Minister's summit to tackle serious youth violence
People who witness serious acts of violence should have the same access to specialist support as victims of the crime itself, the Justice Secretary David Gauke has said today (4 April 2019).
The proposals, which include extending the support of the National Homicide Service to witnesses, were put forward at a roundtable today on the justice system's handling of serious violence – part of the Prime Minister's week-long summit on the issue.
In front of a range of experts and frontline professionals the Justice Secretary pointed to the mounting evidence that being a witness to acts of serious violence, or growing up surrounded by violence, can lead to severe psychological trauma, acts of retribution and more violence.
This echoed the concerns of Busayo Oyedoyin, a member of the UK Youth Parliament, who addressed the opening session of the summit, chaired by the Prime Minister on Monday.
The Ministry of Justice is considering a raft of new measures, which will focus on supporting victims and witnesses of violent crime and directing youth offenders away from further violence.
Proposals announced today include:
extending emotional, practical, trauma and counselling support beyond victims to now include those who witness murder or manslaughter in London
specialist training for staff at youth offender institutions to spot signs of past abuse, exploitation or serious violence experienced by the youths in custody and help direct them to support services
reviewing the Victims' Code, which sets out what services victims are entitled to receive, to make it clearer what support witnesses of serious violent crime can access
Justice Secretary David Gauke, said:
Serious violence devastates families and communities, however they encounter it, and can fuel a continued cycle of brutal offending if the consequences are not fully addressed.

By improving the treatment of witnesses, through enhanced support from the National Homicide Service and more proactive interventions with vulnerable young people, all those affected by serious violence can have confidence that the justice system will stand by them and ensure criminals are brought to justice.

We can only defeat this violence if we understand its root causes, and I am confident these new approaches across government can deliver for victims and better protect the public.
The calls for greater support for witnesses follow recent attacks, such as the death of 23-year-old Glendon Spence, who was fatally stabbed at a youth club in Brixton, where young children witnessed his death.
Under the plans, witnesses to such attacks could also access the specialist services provided by the National Homicide Service, which previously were just open to bereaved family members. This ranges from emotional support, legal advice and funding for court travel costs.
By identifying those at risk earlier and directing them to the right support, Ministers are ensuring that the criminal justice system continues to play its part in protecting victims and keeping communities safe.
Diana Fawcett, Chief Officer at the independent charity Victim Support:
As well as the devastating toll that murder and manslaughter can take on the victim's loved ones, those who witness these tragedies can be left traumatised and in need of support.

Victim Support currently provides specialist government funded support to bereaved family members and we are pleased that this will be broadened in London to include anyone who goes through the trauma of witnessing a homicide.
The measures set out by the Justice Secretary form part of a new 'public health approach' put forward by the Prime Minister this week to tackle the root-causes of serious violence.
The Home Secretary launched an eight-week consultation on Monday setting out proposals for a new legal duty to ensure public bodies, including hospitals, raise concerns about children at risk of becoming involved in knife crime.
The multi-agency approach would ensure professionals in health, education, police, social services, housing, and the voluntary sector work together, and are held accountable for, preventing and tackling serious violence.
Today's roundtable brought the four-day summit to a close, in which more than 100 attendees from a range of backgrounds, including young people, experts in law enforcement, health, the voluntary sector, business and education have set out plans and ideas to support and protect young people from serious violence.
Earlier this week the Prime Minister announced a new Ministerial Taskforce will be set-up to co-ordinate the government's collective work on serious violence.
Notes to editors
The Justice Secretary announced an extension of the emotional, practical, trauma and counselling support offered by the National Homicide Service to those who have witnessed murder or manslaughter. This will begin in London from today before a wider roll-out is considered.
As part of the review of the Victims Code announced in the Victims Strategy, we will make it clearer that those psychologically affected after witnessing acts of serious violence are entitled to the same support as victims with physical injuries.
A pilot programme will introduce staff training and guidance in young offender institutes (YOIs) to help identify children in custody who may have been victims of crime and to allow a greater number to be referred to support in custody and the community to help them cope and recover.