New support for Nepal's Gurkha communities
UK aid will provide sanitation and clean water through the Gurkha Welfare Scheme for ex-servicemen and their families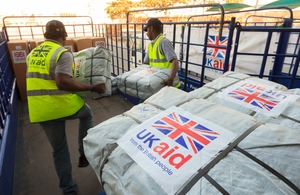 Britain will supply remote Nepali communities in the Gurkha heartlands with clean water and sanitation, Andrew Mitchell said today during a visit to the country.
UK aid will provide sanitation for 44,000 people and clean water for 96,000 as part of the expanded Gurkha Welfare Scheme - a programme of support for the Nepali servicemen and their families who have served the British Army.
The programme will also help to educate 78,000 people about health and hygiene, which may reduce the proportion of people suffering from water-borne disease by as much as 90%.
Poor sanitation and a lack of clean water is a major issue in the rural areas of Nepal where the Gurkhas live. Up to 13,000 children under five die from preventable waterborne diseases each year. Cholera and typhoid outbreaks occur annually, but could be wiped out with improved sanitation and hygiene.
Water-borne diseases disproportionately affect the women of the community, as they usually collect the water and care for the sick. Not only will improved sanitation save women's lives, it will also save them on average three hours a day in time spent collecting water. This has been shown to directly increase the number of girls enrolling in school by around 17%.
International Development Secretary Andrew Mitchell said:
I am proud to see that the ties between the people of Nepal and the UK are as strong as ever. There is universal admiration in Britain for the dedication and bravery of the Gurkhas - whose communities I have met.

The British Government remains committed to supporting Nepal's peaceful development and I was pleased to confirm last year that Nepal was prioritised as a recipient for UK aid.
Gurkha soldiers have served the UK in the Falklands, Iraq, Afghanistan, Sierra Leone and Kosovo. They have also been involved in peacekeeping operations in Bosnia and East Timor. They are famous for their reputation as fierce fighters, and for carrying the distinctive curved 'kukri' knife.
The Gurkha Welfare Scheme is funded through public donations and the British Government. It provides aid to Gurkha ex-servicemen, their dependants and communities including running residential homes for the elderly, providing medical help and building health and educational facilities.
Nepal has suffered a decade of civil war, which left many people in severe poverty. Beyond the Gurkha Welfare Scheme, DFID has a country wide programme to help alleviate poverty and promote the peace process.
Between now and 2015 the UK Government's programme across Nepal will work to ensure that 230,000 direct jobs are created through private sector development, 4,232 kilometres of roads are built or upgraded and 110,000 people benefit from improved sanitation. In addition, we will help 4 million Nepalis to strengthen their ability to cope with natural disasters and the adverse impact of climate change.
Published 19 January 2012