World news story
New Super Priority Visa service announced
The Home Office has today introduced a super priority, same day service for Indian customers, as promised by Prime Minister Cameron during his recent visit to India.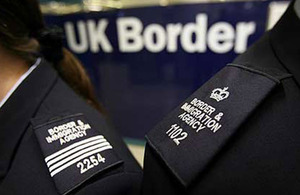 This is the first service of its kind to be launched anywhere in the world by the Home Office. The service will be available from 15 May 2013, and customers wishing to access the service can make their appointments from 14 May 2013.
The Super Priority Visa service is a first class visa service to facilitate urgent travel. It complements the UK's existing Fast Track Service and the recently announced Online Payment option.
The new service is available to customers applying for a 6 month or 2 year multiple entry visit visa (excluding student visitor) who have previously travelled to the UK, USA, Australia, New Zealand, Canada or a Schengen country within the last 5 years. It is also available to visa applicants sponsored by companies who are members of our Business Express Programme.
The service will initially be available in Delhi and Mumbai with plans to expand to Chennai in the near future. Applicants must attend an appointment between 08:00-09:30, Monday to Friday in order to be able to obtain their visa on the same day.
Sir James Bevan, the British High Commissioner to India said:
I am delighted to see the Super Priority Visa service being launched in India before any other country. For the first time, Indian visitors will now have the option of a same-day visa to the UK. This underlines our strong commitment to make an already excellent visa service even better. We expect this new service to be particularly useful for business. Opportunities arise at short notice. We want Indian entrepreneurs and businessmen to be able to seize these. The UK and India are already on course to double bilateral trade by 2015. The new Super Priority Visa will help make sure that we hit this target.
Full details of the Super Priority Service
Further information:
The Super Priority Visa Service is an optional service and incurs an additional fee. The fee for the Super Priority Visa Service is £600, plus the standard fee for the type of visa being applied for. Applicants must complete an online form and submit their applications, by appointment, before 9.30 am. If an application is successful the visa will be ready for collection by 5.30 pm the same day in New Delhi or by 6.30 pm the same day in Mumbai. Further information about fees, eligibility criteria and how to schedule an appointment on VFS website (additional services).
This is part of the Home Office's initiative to launch additional services to ease the customers' UK Visa Application journey.
Prime Ministers David Cameron and Manmohan Singh agreed in 2010 that the UK and India should seek to double bilateral trade to £23bn by 2015.
The Home Office's published processing time for visas (excluding settlement) is to process 90% within 15 working days. More information about processing times and visa applications.
Marcus Winsley, Director, Press and Communications, British High Commission, Chanakyapuri, New Delhi 110021, Tel: 44192100, Fax: 24192411, Mail to: Michelle.Francis@fco.gov.uk, Follow on Twitter @UKinIndia
Published 14 May 2013