Press release
New structure charts give insight into organisation of government
The government has published details about civil servants working at the heart of government as part of its ongoing accountability drive.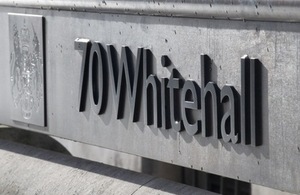 The government has published new details about civil servants working at the heart of government as part of its ongoing drive to make the government more accountable.
Today departments have published for the first time structure charts setting out details of the number and grade of staff working in different teams.
The structure charts show:
the names, job title and salary for all senior civil servants at director level and above
the job title of all senior civil servants at deputy director level, along with the number of staff in their team and the breakdown of their grades
More data will be added over the next few weeks including the total salary cost of each team reporting to deputy directors, job descriptions for senior roles and team functions.
Cabinet Office Minister Francis Maude, who chairs the Government's Public Sector Transparency Board, said the announcement reaffirms the government's commitment to opening up unprecedented levels of data.
Mr Maude said:
Today we have published detailed organisational charts showing how many people work in every branch and level of central government. For the first time anyone who wants to can see at a glance how many people work in any team in any department, giving an unrivalled insight into the way government works.

Although I know these charts are not yet perfect, I believe that it is better that we publish the data we have as soon as we can in order to be as open as possible. Over the coming weeks even more data will be added and further details released so that the public can really hold us to account for how the government spends their money.
The public can now cross reference department salary data which exists in the XLS files with the organisation charts which are in pdf format.
View organograms of government departments.
We know the information is not perfect, but we'd rather publish what we have at this stage. We want to be transparent about corporate data, but we do not want to publish the public's personal details. Personal privacy is the bedrock of a free society, and is as important a guiding principle for this government as transparency.
Published 15 October 2010