News story
New shared parental leave arrangements
The coalition agreement included a commitment to "encouraging shared parenting from the earliest stages of pregnancy - including the promotion…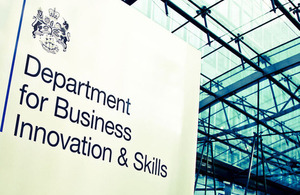 The coalition agreement included a commitment to "encouraging shared parenting from the earliest stages of pregnancy - including the promotion of a system of parental leave."
Speaking at a Demos event on contemporary parenting, the Deputy Prime Minister Nick Clegg said:
"Right now, most parents simply do not have flexibility they need. Despite the fact fathers can request flexible working, many feel reluctant to do so. There is still a stigma attached. And, when a child is born, men are still only entitled to a paltry two weeks of paternity leave. These rules patronize women and marginalise men.
"They're based on a view of life in which mothers stay at home and fathers are the only breadwinners. So in the coming weeks we will be launching a consultation on a new properly flexible system of shared parental leave, that we aim to introduce in 2015."
The Department for Business will be launching a consultation soon which will explore proposals for the design of this more flexible system of parental leave. The consultation will also consider how best to extend the right to request flexible working to all employees.
Business Secretary Vince Cable said:
"We want to help parents juggle work and family life and create a fairer and more family friendly society.
"We will consult fully with businesses on how best to proceed and we are conscious of the concerns of some companies, particularly SMEs - but I hope they will embrace our plans. More and more businesses are appreciating that family friendly workplaces are motivated and productive workplaces."
Home Secretary and Minister for Women and Equalities Theresa May said:
"It's not the job of Government to tell families how they should be raising their children - they should be able to decide for themselves. That's why we're going to work with business to create a new system of flexible leave that gives new parents the choice and freedom to decide what's best for them and their children."
Notes to editors
1. The Coalition: our programme for government states that:
"We will extend the right to request flexible working to all employees, consulting with business on how best to do so."
"We will encourage shared parenting from the earliest stages of pregnancy - including the promotion of a system of flexible parental leave."
"We will review employment and workplace laws, for employers and employees, to ensure they maximise flexibility for both parties while protecting fairness and providing the competitive environment required for enterprise to thrive."
A full version of the Deputy Prime Minister's speech can be obtained from the Cabinet Office press office. The speech set out principles that the Government wants the changes to embody:
any new arrangement must absolutely maintain women's guaranteed right to time off in the first months after birth, paid as it is now; and we must protect the rights of lone mothers.
the reforms must transform the opportunities for fathers to take time off to care for their children.
it must be possible for mother and fathers to share part of their leave, splitting it between them, in whatever way suits them best.
the new system must take into account the needs of employers and it must be simple to administer.
Employed mothers currently receive a long period of maternity leave and pay (52 weeks leave, 39 weeks pay). Employed fathers receive much less (2 paid weeks). This system is inflexible and does not support shared parenting.

As an interim measure Additional Paternity Leave regulations agreed by the last Government will remain in force. The Government believes these changes are a small step in the right direction, but do not go far enough. The regulations were passed in April 2010 and cover parents of children due on or after 3 April 2011. Additional Paternity leave will give employed fathers a right to up to six months extra leave which can be taken once the mother has returned to work after 20 weeks. Some of the leave may be paid if taken during the mother's maternity pay period. This is paid at 90% of earnings up to the same standard rate as Statutory Maternity Pay (SMP) which is currently £124.88 per week (rising to £128.73 from April).

Direct Gov has a comprehensive explanation of parents rights in the workplace www.direct.gov.uk/en/Parents/Moneyandworkentitlements/WorkAndFamilies/index.htm

BIS' online newsroom contains the latest press notices, speeches, as well as video and images for download. It also features an up to date list of BIS press office contacts. See [http://www.bis.gov.uk/newsroom](http://www.bis.gov.uk/newsroom) for more information.
Notes to Editors
Contact Information
Name BIS Press Office Job Title
Division COI Phone
Fax
Mobile
Email NDS.BIS@coi.gsi.gov.uk
Name Henry Tanner Job Title
Division Department for Business, Innovation and Skills Phone 020 7215 5947 Fax
Mobile
Published 17 January 2011