News story
New senior staff for HS2 Ltd
A recruitment process to strengthen HS2 Ltd's board has begun.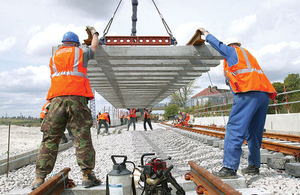 Following the government's decision to proceed with the development of a high speed rail network, the Department for Transport is now starting a recruitment process to strengthen HS2 Ltd's Board.
HS2 Ltd - the company set up to develop plans for a high speed rail network - have now moved from an advisory role to become a delivery body. The main role of HS2 Ltd in the development of this project will be to undertake work and provide the advice which enables the Department to deposit a hybrid Bill with Parliament by the end of 2013. It is essential that the team leading HS2 Ltd has the right skills for the new role.
In particular, a chair and a number of non-executive directors for the board of HS2 Ltd will be sought as public appointments. The department will also be conducting a chief executive appointment process.
The advert for the chair role is now open and will close on 8 February. The recruitment of the remaining roles will follow shortly afterwards, in order that the Chair can be appropriately involved in their appointment. The CEO and non-executive director roles will be advertised from 13 February to 9 March 2012.
HS2 Ltd will also continue to develop route options for phase 2 of the project, including lines from the west Midlands to Leeds and Manchester, and a spur to Heathrow. This will include engineering design work, and appraisals of sustainability. HS2 Ltd will also prepare materials and provide advice to develop and inform future consultations.
Press and media enquiries
For enquiries during office working hours, Monday to Friday, 9am to 5pm 020 7944 6149
For enquiries outside of these hours and at the weekend 020 7944 0550
The press and media enquiries line is for accredited journalists only
Published 20 January 2012