New Schools Commissioner announced as government demands action on school improvement
Former headteacher Dr Elizabeth Sidwell to take up the role of Schools Commissioner.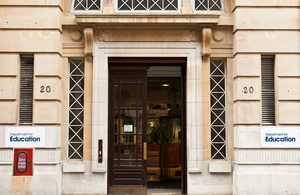 Michael Gove today formally confirmed that Dr Elizabeth Sidwell, the highly respected headteacher and chief executive of the Haberdashers' Aske's Federation of schools, will be the new schools commissioner.
Following this week's school performance tables there are now 216 secondary schools and 962 primary schools below the floor standard. Michael Gove will now challenge local authorities and schools to build on their current work and produce robust improvement plans to turn around schools which are underperforming. Many will benefit from becoming academies, and Dr Sidwell will engage with schools, local authorities and potential sponsors so that more academies replace schools that are underperforming. Her role will be to:
broker academy arrangements between schools that would benefit most from an academy solution and established sponsors with a good track record of performance improvement
encourage and recruit more potential academy sponsors
enthuse leaders of good schools to go for academy status
raise the profile of Free Schools among prospective proposers.
Welcoming Dr Sidwell to her new post, Education Secretary Michael Gove said:
There are few people in the education world with the pedigree and quality of Elizabeth Sidwell. She has been at the forefront of education policy for over 20 years, first as head of the brilliantly successful Hatcham College, one of the most popular schools in the country, and more recently taking on underperforming schools through the Academy programme.

She will be an excellent schools commissioner, using her credibility and knowledge to go round the country, speaking to local authorities, and challenging them and their schools to come up with robust plans for improving.

I know that Elizabeth will be fair, but not shy away from recommending strong solutions, such as academy status, to those schools who are not making good enough progress.

There are still too many schools below the floor target, and the Government will not blink when it comes to standing up for the rights of children to get a better education.
Dr Sidwell said today that:
It is a tremendous honour to be schools commissioner for England. After 20 years of running schools I am very excited at the prospect of working at a national level to help drive something that all of us want to see - more good schools for all of our pupils, regardless of their background.

I know how great the challenge is in some areas. I know how dedicated and hardworking teachers are across the country - desperately trying to improve their schools. I want those teachers to know that I'm on their side.

However, I will not shy away from confronting failure, and I will be honest when I don't think schools are improving fast enough. My direct experience of transforming a good school to great, turning round a seriously failing school, transforming primaries and setting up a new school means I am not asking anyone to do what I, and others across the country, have not already done.
The Coalition Government introduced new floor standards for schools in November's Schools White Paper. These new standards, which are higher but fairer than previous targets, require schools to be above certain attainment levels and also have pupils making at least average progress between Key Stage levels in English and mathematics. For secondary schools the new attainment target is 35 per cent of pupils getting five GCSEs at A* to C including English and mathematics, and in primary schools the requirement is 60 per cent of pupils achieve level 4 in English and mathematics at Key Stage 2.
The schools commissioner post was created in the 2006 Education and Inspections Act, and was formerly held by Sir Bruce Liddington.
Notes to editors
Dr Liz Sidwell is currently chief executive of the Haberdashers' Aske's Federation in South London. She was formerly principal of Haberdashers' Hatcham College in Lewisham, which was rated outstanding by Ofsted. It is also one of the most oversubscribed schools in London, with 12 applications for every place. In 2005 Dr Sidwell led the federation of Hatcham College with the Mallory School, an underperforming school, which became Haberdashers' Knights Academy. Since becoming part of the federation, results have risen by over 30 percentage points from a start of less than 7 per cent of pupils getting five or more good GCSEs, and Ofsted has said the school is 'a rapidly improving school that provides a good education for its students'.
DfE enquiries
Central newsdesk - for journalists 020 7783 8300
General enquiries - for members of the public 0370 000 2288
Published 14 January 2011