New scholarships to attract top chemistry graduates into teaching
New teacher training scholarships in chemistry led by the Royal Society of Chemistry (RSC) have been announced today.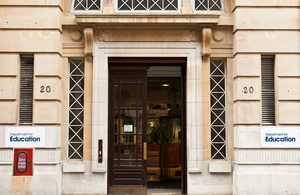 Prestigious £20,000 scholarships to be led by Royal Society of Chemistry.
Government confirms teacher training bursaries for 2013/14.
New recruitment targets to focus on quality of graduates.
New teacher training scholarships in chemistry led by the Royal Society of Chemistry (RSC) have been announced today.
Around 130 scholarships worth £20,000 each will be available. Any graduate with a 2:1 or first class degree will be eligible to apply for a scholarship on a chemistry Initial Teacher Training (ITT) course.
Working with experts in teaching practice, the RSC will award scholarships to candidates with exceptional subject knowledge, enthusiasm for the study of chemistry, and outstanding potential to teach. The RSC's relationship with the scholars will continue into their teaching careers to develop a cadre of outstanding chemistry teachers who are part of a community of chemists across schools, universities and industry.
The scholarship comes as part of the government's teacher training strategy, 'Training our next generation of outstanding teachers', and follows on from the success of the physics scholarship with the Institute of Physics.
Education Secretary Michael Gove said:
If we want to have an education system that ranks with the best in the world, then we need to attract the best people into the profession, and we need to give them outstanding training.

By joining up with the prestigious Royal Society of Chemistry, the scholarship will help make sure we have excellent chemistry teachers in this country with deep subject knowledge. They will help raise the status of the teaching profession and also make a huge difference in the lives of children.
Dr Robert Parker, RSC chief executive, said:
The RSC is delighted to be leading this exciting initiative. We believe passionately in the need for inspirational teaching, and our fervent hope is that this scholarship will increase the number of inspirational chemistry teachers.

It is also crucial to drive an increase in the number of chemistry-qualified teachers who teach the subject. The RSC always seeks to support teachers advancing the chemical sciences in education, not just because it is good for the students - it is also good for the country to have scientifically literate young people in all walks of life to raise Britain's industrial and commercial competitiveness in an increasingly competitive world.
Professor Sir Harry Kroto, British joint winner of the Nobel Prize for Chemistry, who now lectures at Florida State University, said:
In an age in which almost every day we see the development of new technical breakthroughs which impinge on our everyday lives in significant ways, it is vital that we nurture an overall population which understands technology and is aware of scientific ways of thinking.

This scheme is most welcome and should help enormously to ensure more young people are inspired by this new cohort of outstanding chemistry teachers.

It is vital that they will be able to pass on their enthusiasm for chemistry, the subject on which essentially all survival and sustainability issues depend. Important decisions involving chemistry-related issues will confront the next generation.
Top bursaries for top graduates in priority subjects
Ministers have also confirmed the continuation of top training bursaries of up to £20,000 for the brightest graduates in core subjects. They have been re-focused on priorities for the government - EBacc subjects, computer science, music and PE, as well as more specialist maths primary teachers.
This follows on the success of last year's bursary scheme. Figures show that around 65% of teacher trainee entrants to university-based teacher training courses had a 2:1 or better - the highest proportion on record.
Charlie Taylor, chief executive at the Teaching Agency, the body responsible for teacher recruitment and training, said:
Teaching is now a top career choice for the best graduates.

By offering enticing tax-free bursaries together with outstanding training and development, we can continue to attract the very best into our classrooms.
A new bursary for computer science has been introduced as top universities and schools will be invited to run new computer science teacher training courses from the academic year 2013 to 2014. Funding for the current information and communications technology (ICT) courses will end at the same time to reflect the disapplication of ICT programmes of study.
The government is also changing the way teacher training recruitment targets are set. The Teaching Agency is now to be given targets focussing on recruiting high-quality graduates in priority subjects.
Previously targets were set purely to recruit enough teachers to meet future school demand - an emphasis on meeting quantity targets. However, from the 2013 to 2014 academic year onwards, targets will be set to recruit teachers with a 2:1 or above to teach secondary EBacc subjects plus music, computer science, PE and in primary education.
The government is also looking to introduce a five-year target for recruitment of high-quality teachers, which it wants to benchmark against high-performing school systems. The government's aspiration is that in five years time it will recruit the same quality of teachers as the best performing schools systems in the world. This will help in the drive to make teaching an ever higher status profession for the best graduates, whilst making sure the education system has enough teachers.
New School Direct programme opens
From today, schools can apply for School Direct teacher training places for September 2013.
School Direct gives schools the opportunity to recruit and train their own staff, who will go on to teach in their school, or another school in their partnership.
Under the new scheme, schools will train the best graduates as teachers in the subjects and phases they need, and work with accredited providers - such as top universities and other schools - to lead the way they are trained. This will help drive up the quality of teacher training by giving schools a greater role in recruiting and training new teachers; involving the best serving teachers in training the next generation; and encouraging more school-led partnerships for teacher training.
Candidates benefit from attractive bursaries for priority subjects like mathematics, physics, and modern languages, as well a job at the end of their training. They will also benefit from an additional 25% premium on top of the bursaries if their training is based in a challenging school with a high proportion of disadvantaged children - where 35% or more of pupils are eligible for free school meals.
Harris City Academy Crystal Palace has been part of the pilot School Direct programme. The school has this month started training eight graduates as teachers in key subjects such as chemistry, mathematics and French.
Sir Dan Moynihan, chief executive at Harris Federation, said:
As a highly successful academy chain, Harris Federation has much to offer trainee teachers and the School Direct programme allows us to take much more control over the training of the next generation of teachers.

Outstanding teachers will work alongside trainee teachers with schools in the driving seat, commissioning the support they want from higher education.
The application window for schools to apply for places on the School Direct programme is open now until 12 October 2012.
Notes for editors
This press notice relates to England only.
Further details of the RSC scholarship, including details of how to apply, can be found on the RSC's scholarships website.
For more information on becoming a teacher visit the 'Get into Teaching' website
The government's Initial Teacher Training Strategy - 'Training our next generation of outstanding teachers' - and implementation plan can be found on the Department for Education's website.

Details of the financial bursaries for the academic year 2013 to 2014:
Proposed 2013 to 2014 bursaries, scholarships and school direct (salaried) funding
| | | | | |
| --- | --- | --- | --- | --- |
|   | Physics, chemistry, maths | Modern languages | Primary maths Specialist | Other priority secondary and primary |
| Bursary - First | £20,000 | £20,000 | £11,000 | £9,000 |
| Bursary - 2:1 | £15,000 | £15,000 | £6,000 | £4,000 |
| Bursay - 2:2 | £12,000 | £12,000 | £0 | £0 |
A 25% FSM premium is paid on the above bursaries/scholarships to school direct trainees whose training is based in a school where more than 35% of pupils are eligible for free school meals.
Further details can be found on the Department for Education's teacher training funding pages.
The government's announcement on changes to the ICT programmes of study can be found the news pages of the Department for Education's website.

The department has also today confirmed the new ITT recruitment targets for 2013/14. Further details can be found on the teaching careers pages of the Department for Education's website.

In addition to the School Direct programme, School Direct (Salaried) is a new scheme that replaces the Graduate Teaching programme. The aim is to attract up to 4,900 high-quality career-changers into the profession. On this programme schools will receive direct funding to help pay the trainees wage while they are completing their training. Like School Direct, school will choose which training partner to use and decide on the nature and content of the course.
Further details can be found on the Schools Direct pages of the Department for Education's website.
DfE enquiries
Central newsdesk - for journalists 020 7783 8300
General enquiries - for members of the public 0370 000 2288
Website: www.education.gov.uk/help/contactus
Published 28 September 2012