News story
New scheme to help fight fake spirits
The Spirit Drinks Verification Scheme will help consumers in the UK and abroad identify genuine products and avoid the fakes.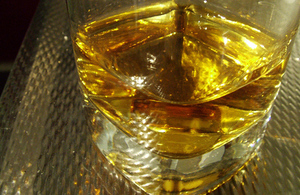 A new scheme to help protect Scotch Whisky and other spirits of UK origin from fake and sub-standard competitors has been launched today (Friday 10 January) by Chief Secretary to the Treasury, Danny Alexander.
The Spirit Drinks Verification Scheme will help consumers in the UK and abroad identify genuine products and avoid the fakes.
Under the scheme, HM Revenue & Customs (HMRC) will undertake checks on all businesses involved in the production of these spirits – everything from fermenting and distilling to bottling and labelling – and make sure that they meet strict European Union (EU) requirements. HMRC will then publish a list of verified brands, production facilities and bulk importers.
Scotch Whisky will be the first major UK spirit to be protected under the scheme which, in time, is likely to be extended to other UK drinks with a geographical origin, such as Somerset Cider Brandy and Irish Whiskey produced in Northern Ireland.
Scotch Whisky producers, blenders, bottlers, labellers and bulk importers will need to apply online to HMRC if they want to be verified. Businesses that do not have their processes verified will be unable to market their products within the EU.
Speaking at a visit to the Benromach Distillery in Forres, Morayshire, Danny Alexander said:
I'm delighted that this scheme is now up and running, helping protect one of the UK's most important and successful export industries. The verification scheme will make sure people who buy Scotch get what they pay for – the finest spirit in the world. The Scotch Whisky industry is now worth around £4 billion to the Scottish economy and employs more than 10,000 people in Scotland.
The booming Scotch Whisky industry is a huge asset to Scotland and the UK which benefits from being part of the UK and European market. The UK government is doing its bit today to step in and make sure that cheap fakes don't undermine this unique global export.
David Frost, Scotch Whisky Association chief executive, added:
Geographical Indication status is of great commercial value to the Scotch Whisky industry. This is a step change in the protection of Scotch Whisky and should be warmly welcomed.
We fully support the introduction of the verification scheme by the UK government. It will give even more protection to consumers of Scotch Whisky. It will greatly improve the industry's ability to stop the sale of adulterated Scotch Whiskies bottles abroad.
Image by Eelco on Flickr. Used under creative commons.
Published 10 January 2014