Press release
New rules on diabetes for bus and lorry drivers
New law introduced that allows people with insulin diabetes to drive buses and lorries.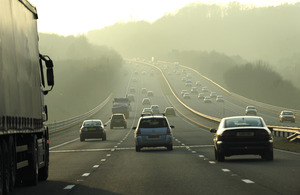 From today (15 November 2011), people with insulin treated diabetes who wish to drive buses and lorries will benefit from a change in law.
The change will allow drivers to apply to DVLA for a licence to drive all categories of vehicles.
Until now, no one with insulin treated diabetes has been able to drive buses and lorries. Under the new rules those with insulin treated diabetes will be considered provided specific criteria are met.
Road Safety Minister, Mike Penning, said:
Britain has some of the safest roads in the world and licensing rules have an important role in maintaining this position. We must make sure that only those who are safe to drive are allowed on our roads, while at the same time avoiding placing unnecessary restrictions on people's independence.

We have listened to expert advice and it is clear that treatment and diagnosis has improved since the existing medical standards were put in place, so a blanket ban is no longer needed. These changes strike the right balance in allowing as many people as possible to drive, without compromising road safety.
The changes follow a consultation earlier this year on amendments to driver medical standards on eyesight, epilepsy and diabetes in line with European minimum medical standards for drivers. Responses to the proposed changes for vision and epilepsy are being analysed and an announcement on these proposals will be made in due course.
Changes for drivers of cars and motorcycles who suffer from recurrent severe hypoglycaemia have already been introduced in September 2010 in order to meet the European minimum medical standards. DVLA has contacted the European Commission to confirm its understanding of the interpretation of the minimum standards required by the Directive.
Notes to editors
Driver licensing rules in GB are governed by the second European Council Directive on driving licences. The minimum medical standards including those for driving with diabetes are set out in the Directive. The EU minimum medical standard for people with insulin treated diabetes now allows people to be considered for driving licences for buses and lorries. The Secretary of State's Honorary Medical Advisory Panels for Driving and Diabetes Mellitus considered the medical Directives and have provided expert advice on implementing the changes in GB. Strict criteria and annual review of the ability to meet the appropriate standards enable GB to relax the current standard without compromising road safety.
The new laws enable drivers with insulin treated diabetes to apply for entitlement to drive all Group 2 categories provided a number of specific criteria are met, the most significant being:
The driver has been treated with insulin for at least 4 weeks;
There has not been any severe hypoglycaemic event in the previous 12 months;
The driver has full hypoglycaemic awareness;
The driver must show adequate control of the condition by regular blood glucose monitoring, at least twice daily and at times relevant to driving;
The driver must provide a declaration to demonstrate an understanding of the risks of hypoglycaemia; and,
The licence application is supported by a medical report from a consultant specialising in diabetes.
In addition to completing the usual application process for those applying to drive buses and lorries, applicants with insulin treated diabetes will need to provide a record of three months worth of blood glucose readings recorded on a memory meter. Medical enquiries will be undertaken to determine whether the new standards of fitness required to drive can be met. As part of our investigations we will request information from the applicant's doctor, if this report is satisfactory the applicant will be required to attend an examination with a hospital consultant specialising in the treatment of diabetes.
The consultation was published online alongside the responses.
Press office
DVLA Press Office
Longview Road
Morriston
Swansea
SA6 7JL
Email press.office@dvla.gsi.gov.uk
Telephone (only for use by journalists and the media): 0300 123 0791
Telephone (out of office hours – only for use by journalists and the media): 0300 123 2407
Published 15 November 2011