New rules make offenders pay
From Monday, new rules will force more criminals to pay towards supporting victims of crime, Minister for Victims Helen Grant announced.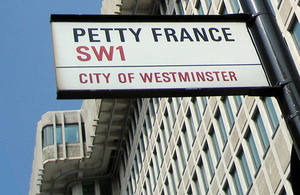 In a massive overhaul of the way services for victims and witnesses of crime are funded, the 'Victim Surcharge' will be increased and extended.
Currently offenders only contribute around a sixth of the funding that supports victims' services. Hard-working taxpayers provide the rest.
Extending the Victim Surcharge is the next step in the Government's drive to see offenders provide up to £50 million more each year for victims services. This is on top of the £66million central Government already provides.
Justice Minister Helen Grant said:
'Only one pound in every six that the Government spends supporting victims of crime comes from offenders. Hardworking and innocent taxpayers pay for the rest. This balance is utterly wrong. And it is something that I am determined to change. Criminals create victims: as well as being punished for their crimes, they should help to repair the damage they have done.
'For the first time, more offenders will literally be made to pay for their crimes. And the more serious the sentence, the more they will be forced to pay. Criminals need to step up and recognise the impact their crime have on others - and they, not law abiding taxpayers, should pay to help victims rebuild their lives.'
The money raised will go to support local organisations that have a proven track record in supporting victims at their most vulnerable. Among those that could benefit are childrens' groups and charities supporting victims of rape, domestic violence, hate crime, burglary, anti-social behaviour and other violent crime- including murder and manslaughter.  
Today's announcement comes just days after it was revealed that, in the last year, around £800,000 has been taken from prisoners' wages - and given to the charity Victim Support.
Notes to editors:
For more information call the Ministry of Justice Press Office on 020 3334 3536.
2.The Victim Surcharge is currently a £15 addition to all fines.
Adults convicted of an offence committed on or after 1 October 2012 will have to pay the Surcharge at the new rate - 10% of any fine (max £120, min £20), conditional discharge (£15), community (£60) or custodial sentence (£80, £100 or £120 depending on length of sentence).  The Surcharge amounts are different for under-18s.

The new surcharge will not apply to any Fixed Penalty Notices, including those for motoring offences.

Up to £1m a year is also being raised from prisoners who earn the minimum wage. In the first year alone more than £800,000 was raised.

Organisations currently receiving Victims Surcharge money include:
Winston's Wish: a national charity providing emotional and practical support to some of the 24,000 children who are bereaved of a parent each year and those coping with the death of a sibling.
Victims like the family of 19 year old Mark, who was murdered in an unprovoked attack in 2009. After contacting the charity through their national helpline, Winston's Wish supported Mark's parents and siblings for more than 18 months through individual and family meetings.
After attending a residential group, run by Winston's Wish, for families bereaved by murder, Mark's mum said:
'From all the negatives in our lives, this is a positive. It was so good to know that professionals were keeping me safe; helping me to express myself'
Liz Koole, Family Services Manager at Winston's Wish said:
'It is a double blow when a homicide takes place; not only does the family have to cope with a sudden, unexpected death, they also have to deal with the way their relative has died. Children can often be left overwhelmed and bewildered by what has happened. These are ordinary children in extraordinary circumstances. Some families who have been bereaved through violence describe it as, "grief with the volume turned up'.
'Winston's Wish is helping children and families bereaved through homicide across the UK. Experience shows that children who receive timely and appropriate support, information and advice are better able to face the future with confidence and hope.'
Karma Nirvana, which supports female and male victims of forced marriage and honour-based violence.
Saima was just 14 when her parents promised she would marry an older cousin she had met briefly on a family holiday to Pakistan. She was tricked into returning to Pakistan and made to marry the 26-year-old man she hardly knew, who beat and sexually abused her.
Following a harrowing ordeal - three suicide bids, an 'honour' knife attack which killed her unborn baby and being completely cut off from the family which claimed she shamed them, she contacted Karma Nirvana for support and advice. The charity helped her to rebuild her life.
'The worst thing was the fact that so many people were alerted. I told them but no-one helped because they thought I was a teenager seeking attention.
'Hopefully, now the law has changed, places like schools, colleges and people like social workers, police and doctors will take this more seriously than they did even just a couple of years ago.'
Jasvinder Sanghera, founder of Karma Nirvana, said:
'This funding means we can now say with certainty to victims of forced marriage and honour-based violence that our national helpline will be here for the next three years.
'We can save more lives and we can respond to an issue that our Government recognises is happening in the UK. We know the 550 calls we take each month, from women and men, are the tip of the iceberg and we want to encourage more people to seek help.'
The Safety Net Advice and Support Centre
Joanne, 15, found she could no longer cope after being raped at a party by a fellow school pupil. She said:
'I had nowhere to turn to and no-one understood. Cathy [at the Safety Net Advice and Support Centre] listened, didn't judge me, and just got it. She stuck with me. Without her I'd be dead.'
Abigail Finnegan, chief executive of the Safety Net Advice and Support Centre, said:
'MOJ funding will help us reach children and families affected by rape and sexual abuse particularly on the West Coast of Cumbria where services for this type of work are few and far between.
'There is no quick fix to the devastating after effects associated with the trauma of sexual abuse. The provision of sustained funding means that a postcode lottery of specialist services is removed in West Cumbria and that we have increased capacity to provide long term specialist support to those who need it most.'
7.    A full list of organisations currently receiving funding raised through the victims surcharge is available on the Ministry of Justice website
8.    All of the names included in the case studies have been changed to preserve their identities.
9.    More information about the charities can be found on their websites.
Published 29 September 2012